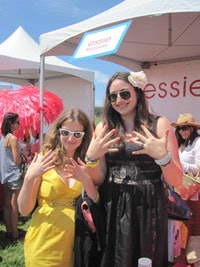 Ovarian cancer is the fifth-leading cause of cancer deaths for women in the United States, and for more than 10 years, Essie Cosmetics has been part of the fight to find a cure. Proving its dedication to the cause, Essie once again participated in the Ovarian Cancer Research Fund (OCRF)'s Super Saturday event in July, providing a manicure booth for event participants.
"We are so pleased to support the Ovarian Cancer Research Fun in this important cause," says Essie Weingarten, president and co-founder of Essie. "The OCRF does a fantastic job in rallying up a huge group of supporters, and we are proud to be a part of it."
The OCRF presents its Hollywood-style fundraising event annually, and this year it was held at Nova's Ark Project in Water Mill, New York. Designer Donna Karen and Live with Regis and Kelly personality Kelly Ripa co-hosted the event with Ariel Foxman from InStyle.
The Essie team that pampered the shoppers included Irina Matveeva and Sonia Ullaguari from Salon Xavier, Dana Hut and Christine Carollo. Attendees chose polishes from the 2010 Spring, Resort and Summer collections or any long-standing Essie favorite.
The event raised about $3.3 million for the OCRF, which will be used to further the nonprofit's mission of research and raising awareness.