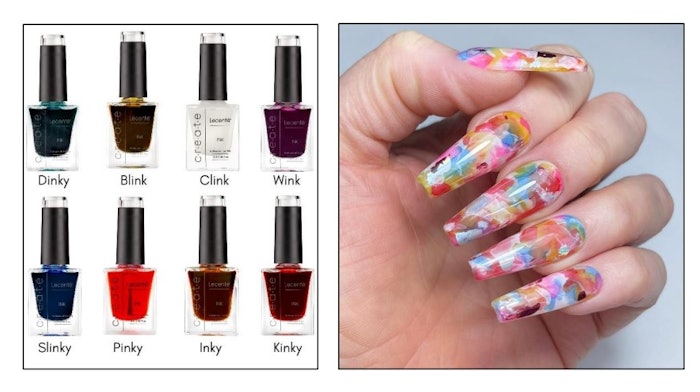 Courtesy of Lecenté
Lecenté has a host of nail art dropping at the end of March, including new inks, glitters, foils and square nail tip displays.
These products have everything you need to get creative this spring and summer:
Eight brand-new fun inks perfect for every nail artist's kit! These inks can be used to create effects like marbling, water color, tie dye, bubbles and more. They are air-dry inks that can be applied directly onto a matte surface and can be used on their own or over a matte base color.
Six new, eye-catching multi-glitz glitters to provide clients with the ultimate wow factor.
Three new foils. These are full-coverage, intense holographic foils thatcan be used as full coverage with Lecenté Foil Gel or can be dabbed randomly for a more abstract look.
Square Nail Tip Displays available in clear, natural and black.