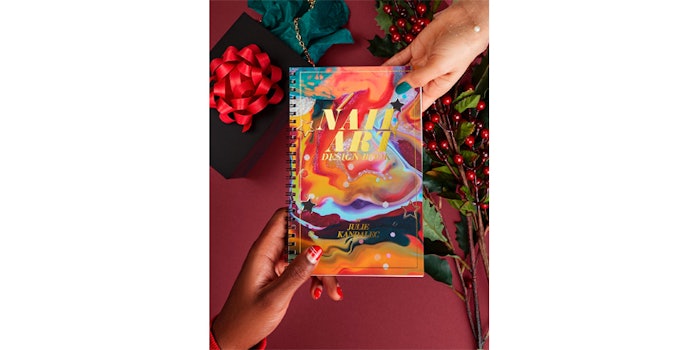 Photo Credit: Brian McDougall
Celebrity manicurist Julie Kandalec, the founder of Julie K Nail Artelier, has released a second edition of her self-published nail art design sketchbook.
The new edition features two full-page spreads of 16 all-new color palettes and an additional two-page spread of 50 new nail art looks in full color. 
Combining nail inspiration, color theory and updated nail art trends, the sketchbook offers educational elements such as illustrations of tools and brushes as well as color combination ideas to spark creativity in nail aficionados.
The new features include: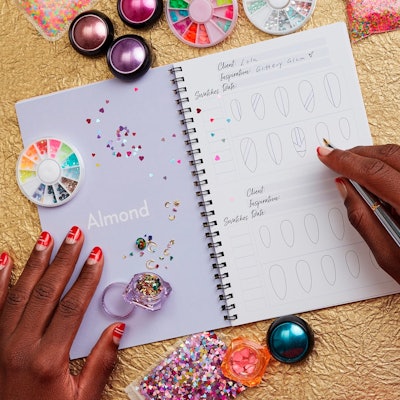 16 new color palettes: Kandalec loves how colors can work together when they are side by side, so she wanted to share more of her signature fool-proof color combinations!
Four-shade palettes down by season: winter, spring, summer and fall. Each quad in the book can then be broken up into two-, three- or four-part colorways for endless options.
50 new nail art looks: Julie's favorite nail art looks have been added, each with its own story. Some are named after the celebrities she has done the look on, like Camila Cabello, Joe Jonas and Machine Gun Kelly, while others are named after family.
The book helps nail art aficionados create their own signature look, providing tips and tools for every step of the nail art creation process.
540 blank nails to sketch in.
The book is complete with a new QR code to stay up to date with Kandalec's latest nail tips and celeb manicures in the digital space.
"I made my book for the creative spirit of any age and creativity level. It is designed for nail art lovers, whether that is a current nail school student, experienced nail art aficionado, someone who just likes to DIY at home and anyone in between. Adding the educational elements of color theory, my favorite tools and more, I want to guide and encourage nail artists to create exciting nail art that they love and have a gorgeous diary in which to store it, too," said Kandalec.