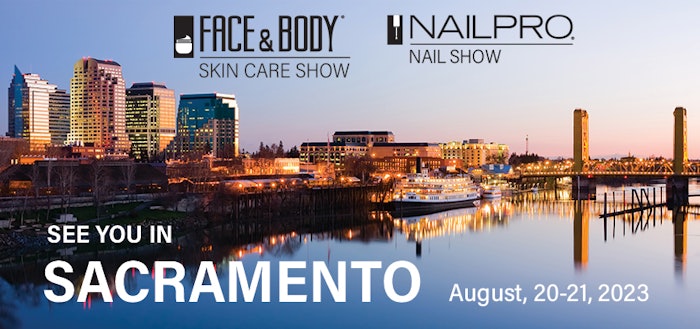 Sacramento is the new location of
Face & Body
and the
Nailpro Nail Show
, taking place on Aug. 20-21, 2023. Those used to the event in San Jose and some new faces have asked us, "Why Sacramento." You may be surprised by some of the interesting things we have discovered about California's capital city. 
1. Nature In the City
Sacramento is a nature hub, which was one of the reasons we selected the Beauty in Nature theme for Face & Body and The Nailpro Nail Show. It is nicknamed the "City of Trees," with more trees per capita than any other city in the world, although it is said that Paris gives it a run for its money. Not only are the trees beautiful to look at, but they can reduce the ground temperature of the city by 35 degrees, which we may appreciate in late August.
Sacramento is also home to three of the world's nine International World Peace Rose Gardens, one being at its State Capitol Park. This park has nearly 140 varieties of roses.
2. Foodie Fresh
If you love food, Sacramento is the place to be. It is recognized as America's "Farm-to-Fork" capital. Not only does the city grow produce that is shipped all over the U.S., but it is home to an estimated 40 farmers markets. Many of these farmers markets can be frequented year-round, and the new Golden 1 Center is tapping into all this local food by making sure 90% of its food and drink are from the area.
3. Nail History
Nail technicians and salon owners are sure to celebrate the return of Nailpro's nail event to the area. Prior to joining Face & Body in San Jose in 2022, Nailpro hosted an annual expo in Sacramento known as Nailpro Sacramento. The Nailpro Nail Show is excited to bring the show back to the area, allowing local nail professionals and salon owners a more convenient location.
4. Almonds Abound
Do you enjoy the beauty benefits of almond in your skin care products? Well, you have Sacramento, in part, to thank. While you may know that California produces an estimated 70-80% of the world's almonds, Sacramento is an important part of the equation as the headquarters of the world's largest almond producer, Blue Diamond. The almonds that Blue Diamond processes can be found in the form of snacks, but also raw materials for food and you guessed it, beauty products.
5. Underground Secrets
Sacramento has a secret that it is hiding...underground. Though its location on the Sacramento River gave Sacramento good access to shipping and trade, it also positioned the city in great danger of flooding, which it did many times in the 1800s. The city flooded so much, many of its residents left; however, those dedicated to the city decided to rebuild the city at a higher elevation. Buildings and streets were raised, but some remnants of old Sacramento were left. The underground Sacramento can still be seen in some parts of the city.
Come to Sacramento Aug. 20-21, 2023, for Face & Body and The Nailpro Nail Show, and explore the capital city with us!