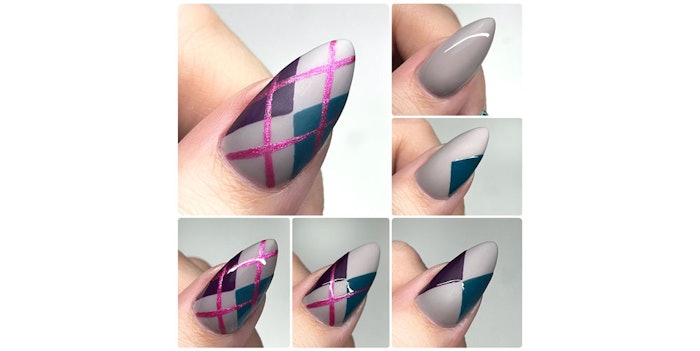 Courtesy of @hopejungnails
Hope Jung, veteran nail technician and a Light Elegance brand ambassador, has created an argyle nail set.
She created the look using Light Elegance products.
How-To: 
Start with a gray color as your base. 
On one side of the nail, create a triangle in a teal color with your stripy brush. Make sure the peak is just shy of the center of the nail.
Repeat the triangle pattern on the opposite side using a dark purple color. 
With the stripy brush, take a dark pink color and create a crisscross pattern starting at the cuticle and ending in the opposite triangle edge.
Repeat the crisscross pattern, but start at the free edge, and complete the argyle pattern at the opposite end.
Finish with a top coat.