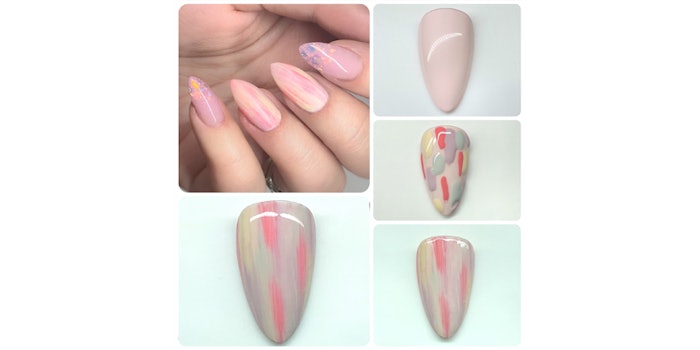 Courtesy of @hopejungnails
Hope Jung created this look inspired by the painting styles of Wayne Thiebaud, Claude Monet and Van Gogh. 
Jung is a veteran nail technician and a Light Elegance brand ambassador. She used Light Elegance products from The Artist collection to create the look. 
"When I first opened the spring collection, I was very inspired by the names: Bare Canvas, Wanna Watercolor and especially Creative Chaos to mention a few. I really related to these names and felt like they were made for me as an artist. With having an art background, looking at these colors and glitters as a whole created a sense of calm like walking through an art museum. I have always been a fan of the painting styles of Wayne Thiebaud, Claude Monet and Van Gogh," said Jung. "The spring 2022 color palette reminded me of their smooth and flowing brush strokes on canvas. The colors in this collection are very versatile and have amazing coverage, while the glitters accent them perfectly with fun pops of iridescent, pearls and textures. There are endless possibilities of what can be created with The Artist collection. This collection is the perfect way to start off a new year with soft and sweet neutrals to unique and artistic glitters that are perfect for every artist."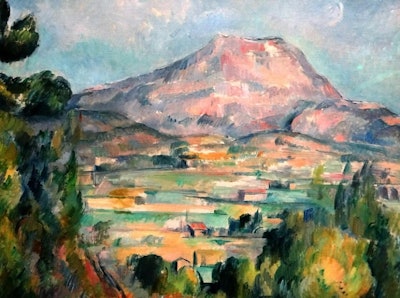 Get the Look
Apply a warm neutral pink for your neutral base. 
Using a shorter brush, apply thick blocks of a yellowy vanilla color, mauve color and a dark olive green color randomly on the nail. 
For a pop of color, add smaller sections of a orangey coral.
With a fluffy brush, drag the colors down to blend. (Make sure to clean your brush between each motion.)
Using a fine brush, pull thin lines of the individual colors for a more dramatic look. 
Finish with a shiny or matte top coat for a more artistic effect.