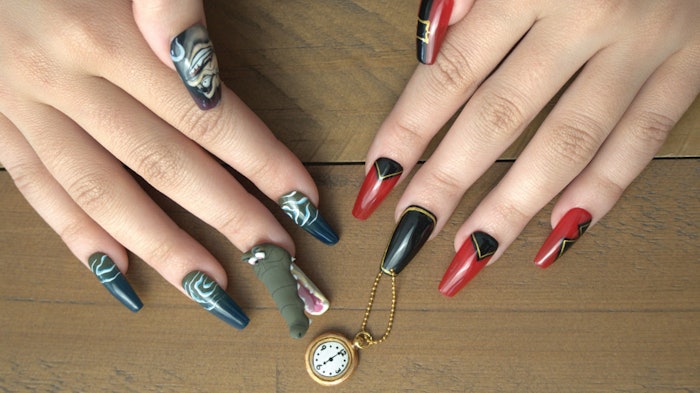 Courtesy of Cathy Torres
Send shivers down Peter Pan's spine with this Neverland-inspired set.
GET THE LOOK
 1. Paint a deep blue base. Follow with a matte top coat and cure. Use a high-pigment white gel to sketch Captain Hook, then file in the colors of Captain Hook's face.
 2. Once the base colors are applied, add shadows and shade using gel colors thinned with alcohol or acetone, then use a high-pigment black gel to outline Captain Hook's face. Paint his hat a deep, dark red, and highlight it with a deep fuchsia. Apply a matte or glossy top coat to make Captain Hook come to life.
Read Nailpro's September/October 2022 digital magazine for Torres' complete tutorial with additional photos and how-to videos.
About the Artist: Cathy Torres has been an esthetician/nail technician for 30 years. She is proud to be a Bio Sculpture (Canada) brand ambassador and has loyal clientele in Amicis Salon • Hair • Skin • Nails. She has two children who are now young adults and lives in Kelowna, British Columbia, with her husband.