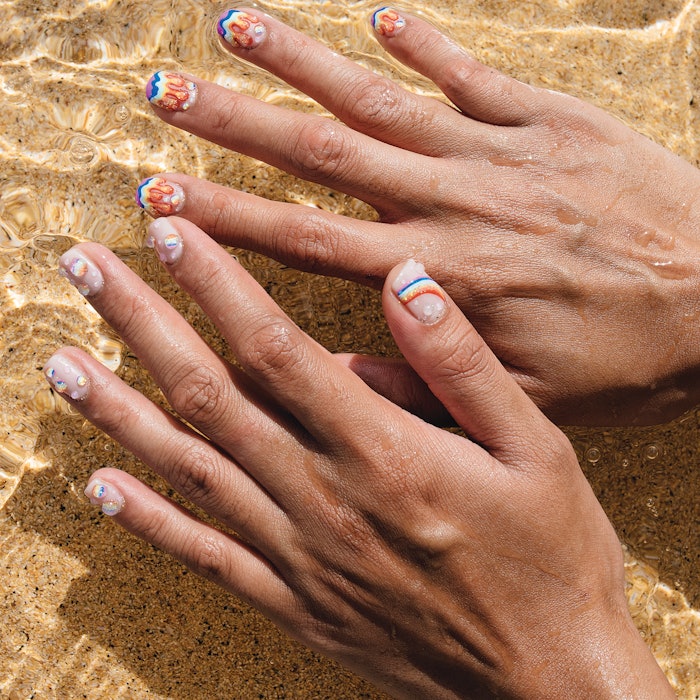 Our second cover contest winner of the year is Noelle Moore who submitted not one, not two or even three mood boards, but five! Although the extra mood boards did not sway our opinion, we certainly loved her enthusiasm. Moore describes her mood board: "This composition uses colors, shapes and motifs in a set designed to bring happiness and joy. Everyone needs a little spark now and again to get through difficult times. Lighthearted and overflowing with a kind of vibrant energy that puts a smile on the client's face, these nails provide them with an instant source of delight, literally at their fingertips." Get to know our cover artist who celebrates our themes of summer, LGBTQ Pride Month and men by creating rainbow, beachy nails on a male model.
Q&A
Nailpro: How long have you been a licensed nail tech?
Noelle Moore (NM):Two years.
Nailpro: Why did you become a nail tech?
NM: I originally studied fine art in college as l have always had a passion for drawing and crafting. When I became unsure about the medium I wanted to use, I decided to take a break from school. That is when my mother suggested to start doing nails. This was in 2019, and I enrolled in a nail academy in Hawaii right away.
Nailpro: When did you get into nail art? For how long have you been creating?
NM: I would say I really started to get into it when I started at the nail academy. Growing up in Japan, nail art was nothing new, and I have always had people around who had very intricate nail art, which was very inspiring.
I think I had some interest since I was young. As a little girl, I was always creating (drawing, painting, sewing, knitting, making origami, etc.) in the "craft room" I had in my house. My parents made sure that craft materials were always available for me to create anything whenever I wanted to.
Nailpro: What is your inspiration behind the cover?
NM: There was a clear concept provided this time for the June issue—pride, summer and men's nails.
I wanted to emphasize the rainbow as well as incorporate summery vibes. At first, I was going to paint literal ocean waves, but after sketching it out, the waves overpowered the rainbow. Instead, I decided to zoom in a little more and made rainbow-colored water splashes. Then I coated thick layers of clear gel on each rainbow splash and water droplet to make them look even more fresh and watery. I was relieved to see the outcome because I was not sure if it would materialize how I had imagined it.
Nailpro: How do you conceptualize your nail art?
NM: Trial and error. Whenever I have inspirations or ideas, I make samples, but most of the time, they do not look the way I had imagined it. I personally like abstract designs and nail sets that have all kinds of textures, so I make a lot of samples using different materials. With this process, you encounter some happy surprises where new designs are created. I also like to sketch my designs, but most of the designs I like were created randomly while painting on nail tips.
To see more of Moore's work and her how-to behind the cover nails with step-by-step photos, check out Nailpro's June 2022 digital magazine.
About the Artist
Noelle Moore was born in Nagoya, Japan, and moved to Maryland to attend the University of Maryland to study art. After working as an interpreter in Washington D.C, she moved to Hawaii to attend a nail academy and has been a Honolulu-based nail technician since 2020.