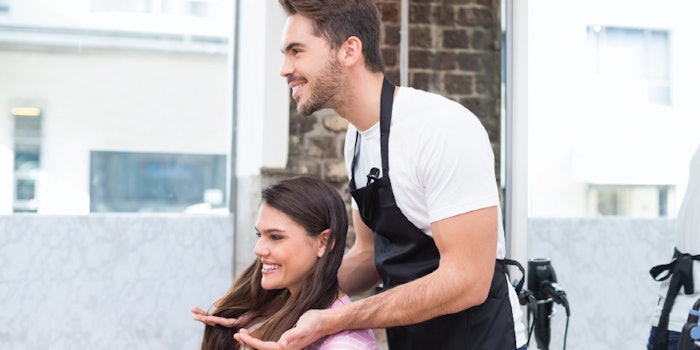 The relationship that a hairstylist and a client have can be mutually beneficial.
Salon professionals can develop the trust of their client, ensuring they return to their chair, while clients can have someone they trust with their hair and other aspects of their lives that they choose to share. In this Q&A, Liza Espinoza Achurra (@modaliza2), stylist, salon owner and industry educator/artist, discusses her experience developing relationships with clients and gives advice to fellow stylists.
Q&A: 
Beauty Launchpad (BLP): How do you develop meaningful relationships with your clients?
Liza Espinoza Achurra (LEA): Authenticity is key. Seeing every person as a unique individual and treating them as such goes a long way. Remembering things about them and their hair (even if I have to make notes on their file) always makes clients feel special and tells them that you truly care about them. We are there to make sure the clients' hair is the best it can be for them and their lifestyle, but also to nurture them as people, as we spread kindness and love.
BLP: What is an example of a relationship you have with a client that has improved your experience as a stylist and/or salon owner?
LEA: I have one particular guest, Heidi, whose hair I've been doing for more years than I'd care to admit! I was a part of her wedding and every special event she ever went to. We share a love of Halloween and often share ideas and costumes. Heidi is highly fashionable and on top of everything new in beauty and trends. We have the best conversations! She's open to change and challenges me to always come up with something new or different. She is also a great retail guest, who loves to try new products and always gives stellar feedback.
BLP: Why is it important for stylists to be intentional as they connect with their clientele?
LEA: I'll go back to authenticity. People can feel it if you are having a generic conversation or giving them one-size-fits-all hairdressing techniques. They want to be seen for who they are, treated as such, and have their hair treated that way, too. Getting to know people and their hair on a deeper level takes a little more work and a lot more purpose and intent, but it pays off big in the long run. When you have a connection with a guest and they feel safe, happy and confident in your space, they will be loyal to you; they will sing your praises to all who will listen because they truly want to support you. It's also important to treat them like a special guest every time they're in, whether it's their first time or their 100th time in the salon.
BLP: What is some advice you have for stylists who may be struggling to connect with their clients?
LEA: Start by developing an aura of welcome. Asking good questions is a great way to stimulate conversation. Allow your guests to open up to you and share—they'll appreciate it. Actively listening to clients and paying attention will keep conversations healthy; it seems like a simple task, but we can often get distracted, and then the conversation gets fragmented. Stay focused on the present. Keep the conversation balanced—it shouldn't be just about us. Meaningful connections move past small talk, but that doesn't have to happen the first day. Stay more surface level with a first-time guest, and get to know them better each time they come in, building your relationship with each visit. Respect their boundaries, and move in circles that are comfortable for you both, professionally and personally. Be genuine! Clients are there to see you, so give them the caring, wonderful you every time.