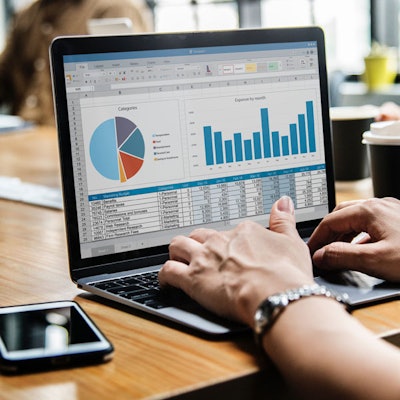 You got into the nail business for your own personal reasons. Maybe you love the gig, maybe you're in it because you take a lot of pride in working hard and want to earn a lot of money.
Earning a lot of money is totally doable, but it requires a ton of discipline, lots of hard work (that's right, harder work than you're doing now, which seems impossible), and a ton of determination.
So, what's the secret?
Sure, there's no guaranteed or patented formula for making a large salary that we can personally offer you, but at Elite Beauty Society, we do know what makes a successful nail professional, and we're here to share our top ten tips.
1) Price Accordingly
Say it one more time for the people in the back — price accordingly.
You know your worth, right? You know that you're a valuable, hardworking, and talented professional, right?
You should.
If you do, it's time to start paying attention to your prices. Top employees aren't making that great money by under-pricing their services and skills, so why should you? Let's be clear —we don't mean that you should gouge prices and rip off your valued clients, but we do think taking a good, hard look at what you offer and how much you offer our services for could really change the game for you.
If you do analyze your prices and realize that you're lacking, do some research and make some changes. You're already on your way to boosting your own salary.
2) Networking & Connections  
Networking is a big part of any industry, but especially so in the styling biz. What you do is all about building relationships and being able to retain those relationships, so networking is enormously important.
Are you reaching out to local nail communities within your area? Are you part of online groups or forums? Are you taking the time to attend symposiums where you can meet — and learn from — other nail professionals?
Making these connections is crucial.
Further, making connections with clients is an enormously big deal, too. That's going to require a lot of time dedicated to the client you're trying to connect to. Try to use the time with your clients in the chair to be authentic, to suspend your agenda, and to listen to your client —never spare your expert opinion but be an authentic source of helpful information. These types of client relationships are what keep people coming back.
3) Remember: Retail Salesmanship Isn't a Bad Thing
For some reason, sometimes retail salesmanship gets a bad rep in the nail business, but it shouldn't. Maybe you don't think you're a natural-born salesman, maybe you even think retail selling has no place in the craft, but we have to say, if you want to simultaneously help your client with upkeep and make money while doing it, you'll be hard-pressed to find another aspect of this gig that hits both of those notes as hard as retail sales.
It helps to remember that clients are coming to you for more than just a service, they want professional advice and an expert care— you know that selling them the right products is going to make the difference, so where's the harm in selling it to them?
4) Look the Part
This part is really straightforward.
You want people to treat you like a professional? Look like one. We know, we know, that might seem oversimplified, but it's true. You know that saying dress for the job you want, not for the one you have — that totally applies here. If you present yourself as dressed for success and entirely look the part, that's only going to boost your rep to help you get there. Appearance matters in this game.
5) Career Protection
Smart and successful nail professionals all have one thing in common. They love their career. And because they love it (and have worked so hard to attain where they are) they do everything they can to protect it. No, we don't just mean protecting it by staying ahead of the game and up to date on all the latest trends. They protect it by insuring it with the number one cosmetology liability insurance in the industry, from Elite Beauty Society.
Elite Beauty Society offers the most comprehensive and most affordable cosmetology liability insurance that protects you from claims of malpractice, slip and falls, and even product liability. All Elite Beauty Society policies also include identity theft protection and stolen/damaged equipment coverage at no additional cost!
Creative Age readers also receive and exclusive deal on Elite Beauty Society insurance. Click here for an instant $20 off standard rates!
6) Be Consistent & Punctual
This is such a simple thing, but it's a big deal.
Nail professionals are consistent in offering excellence— they're the people who clients don't think twice about going to because it's going to be perfect every time.
If you're not quite to the level of non-stop home-runs with clients, that's okay —you'll just need to continue practicing, working hard, and learning to get to consistent excellence. Further, punctuality is going to be a huge deal with clients.
7) Never Stop Learning
Nail pros are always learning. Their services are top-notch and up-to-date with the latest trends and fads. If you're not continually investing your time and effort into learning your industry, you're going to have a much harder time boosting your salary.
8) Ask Yourself: Do You Keep Good Habits?
When you take a look at your nail life, do you see the habits of a nail professional?
Are you running a messy salon?
Are your books in total chaos?
Are you keeping up with your set-up business hours?
Are you prepared to take on every day with all the tools you need?
Your habits are just as important as the services you offer —you need to make sure you're properly prepared every single day.
9) Put in Work Outside of Work
Are you reading magazines with the latest trends?
Are you attending symposiums, events, conferences?
Do you have a mentor that you're meeting with every so often to brush up on your game?
The keys to success come outside the salon. You can put in all the work inside the salon possible, and while you'll definitely reap benefits from that, the professionals who really break the bank are the ones who are taking their career to the next level and taking their work outside the salon.
(Note: we're not advising that you only have your career as the focal point of your life —try to work-life balance as much as you possibly can. We simply mean that taking that extra step outside the walls of your salon is going to do huge things for your career).
10) Push Yourself
This is the most important point of all — you're going to have to be hungry for success and willing to push yourself to get there.
You're already a nail professional, so you know a thing or two about drive and determination. Now, it's time to take it a step further to get yourself where you've always wanted to be. This takes confidence, willingness to work hard, and the ability to learn from failure We know you can do it. Do you?
[Image: Pexel]