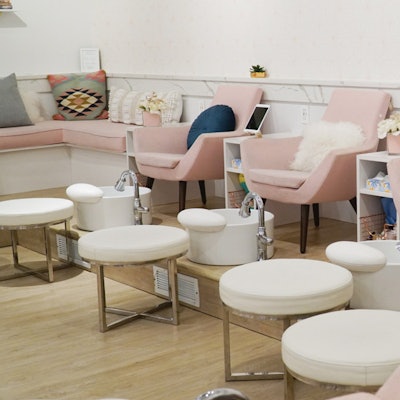 Owner Kristin Pulaski welcomes Nailpro to her Brooklyn, New York, salon.
The Look
Brought to you by the team behind Drybar, Paintbucket was designed by Heitler Houstoun Architects with a girl's dream pad in mind. They brought my vision to life—including a polish wall with paint swatches (rather than bottles) for clients to choose from. I wanted Paintbucket to feel light, airy and welcoming. We paired light pink and navy furniture with marble countertops and rose gold fixtures. From the moment clients step inside the space, they're transported to their cool best friend's apartment. We're always playing reality TV, chick flicks and great music. Our manicure bar enables clients to start conversations where they cultivate friendships with our staff and each other. Williamsburg, Brooklyn, is a very trendy, hip area where small businesses thrive. The artsy neighborhood fits Paintbucket perfectly for what we offer— lots of nail art!
Signature Services
Women visit to relax, indulge and have fun. Clients typically spend up to 2.5 hours with us depending on their services (our custom nail art can get intricate). Clients spend $60 on average for regular services and anywhere from $70 to $125 on nail art and soft gel extensions. Our most popular service is our basic gel mani with art, where clients first consult with their nail artist on which design they want (most designs range from $25 to $35 for all 10 nails). The service includes shaping, cuticle work, gel application and nail art, and finishes with a massage and hot towel. We raised our signature spa service prices six months after opening in 2017 based on the amount of time the services took and market standards. We also price more detailed and complex nail art a bit higher now since opening.
RELATED: Savvy Salon – Sugarcoat Nail & Beauty Bar, Atlanta
The Goods
We use Essie, OPI, NCLA, Floss Gloss, Nars, Dior, Deborah Lippmann, Smith & Cult, Marc Jacobs, Flora, Bio Seaweed Gel, Seche and Orly. We retail jewelry by Tarin Thomas and Sofia Ramsay, polish from Smith & Cult and Floss Gloss, and cuticle oil from NCLA. Employees receive 10 percent commission on any cuticle oils or packages they sell, which is a great incentive for them to build their customer base.
The Outreach
We participate in local charity events and donate to public school fundraisers. We hosted a sold out breast cancer awareness event called "Babes for Boobs" with Floss Gloss last October. We offered boob-inspired nail art, hair braiding, custom floral hairpins, makeup touch-ups, cocktails and more. We were so grateful for the turnout and funds raised for the Breast Cancer Research Foundation, we can't wait to do it again!
Social Life
Instagram is huge for us—and our following is growing rapidly. We love promoting new nail art collections, partnerships and fun events, as well as answering any questions clients have.
Up Close With Kristin Pulaski
What was your first job in the nail industry?
"Paintbucket. Before opening the shop, I worked in advertising for five years. I always wanted my nails done for work, but hated the experience of actually going to the salon. I wanted a space to get my nails done, have fun and enjoy time with my girlfriends. Before opening Paintbucket, I enrolled in Christine Valmy, an amazing beauty school in New York. Although I don't perform nail services too much anymore (due to other business needs), I like to pop into the salon from time to time to take a few appointments."
RELATED: Savvy Salon – Olive & June, Several Locations
What inspires you?
"Watching my staff and clients enjoy the space and brand we've created and cultivated together. Female founders who also grew their brands like Emily Weiss and Audrey Gelman really inspire me. I love following Glossier and The Wing and seeing how their businesses have grown over time."
What renovations have you made?
"Initially, our pedicure stations were too low and uncomfortable for our staff. We closed the shop for a few days to renovate the floors and build a taller platform. My team is my first priority."
What was the funniest thing that happened when opening the salon?
"Two days before opening, our nail artists were training at the shop while we finished the last bits of construction. Our electrician was installing custom fans in the manicure bar when all of a sudden a huge power outage blew out every single fan. The sound of the outage scared us all, but we just laughed—something else to add to the list of things gone wrong. Luckily my dad was the general contractor and fixed the issue, but I had to order a whole new set of fans—and we opened a day late. We still laugh to this day."
What's your best advice for new salon owners?
"Be as open to feedback— from both clients and employees—as you can without getting offended."
What's your go-to client conversation starter?
"'Anything fun planned for the weekend?' It starts a conversation that everyone is interested in."
Details
Owner: Kristin Pulaski
EST. 2017
Staff: A mixture of 15 employees, who are compensated with an hourly wage plus tips, and independent contractors.
Benefits: A training program for newly licensed employees, and nail art and enhancement courses for all employees.
–by Angelina Lewis
This story first appeared in the June issue of Nailpro magazine. To receive the magazine, click here to subscribe.
[Images: Courtesy of Ivan Halpern]