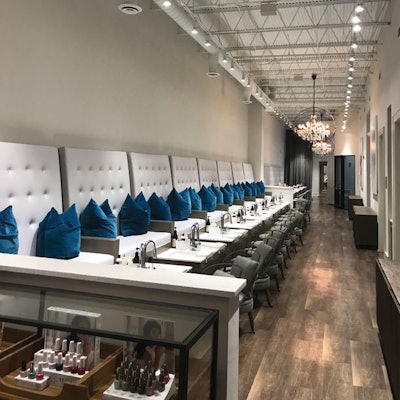 The Look
Named Atlanta's best beauty destination by numerous publications since opening in 2005, Sugarcoat Nail & Beauty Bars are chic, modern and sophisticated nail spas that value cleanliness and are committed to elevating the industry's standard of sterilization. Our salons are well ventilated without unpleasant odors. Our go-to design expert Lee Bryan from LBID has been creating beautiful Sugarcoat spaces—each unique to the neighborhood it serves—for over a decade. All four locations are set within well-established urban areas in Atlanta and designed to provide a clean, relaxing and inviting atmosphere. Our Buckhead location serves a metropolis community with high-end shopping and dining options. Our Vinings location serves an affluent neighborhood down the street from the governor's mansion. Virginia Highland sees clients from a fun and trendy neighborhood close to Piedmont Park. A mile from the outdoor amphitheater, our Chastain Park salon is located within a collection of 1,500 homes. Keep an eye out for another location coming soon to Midtown!
Signature Services
The women of Atlanta expect a nail salon that's just as inviting and accommodating as it is modern and on-trend—we're here to give them just that! Talented and skillful technicians provide the best nail and beauty experience. We're always in search of the newest products, techniques and services
to enhance and exceed our clients' expectations. We provide the most sanitary nail care services available. The average visit lasts about an hour and a half, and clients spend approximately $60 per visit. The most popular service at Sugarcoat is the signature manicure and pedicure. A pampering treat, this service includes a soak, luxurious Sugarcoat Sugar Scrub, Sugarcoat Foot Crème moisturizing leg massage, sole softening and polish. We cater to clients seeking exceptional service and cutting-edge practices, products and techniques, with dip services, eyelash extensions and a wide range of polishes.
RELATED: Savvy Salon – Olive & June, Several Locations
The Goods
We use OPI, Essie, CND, Smith & Cult and Pure Fiji. We chose our product brands due to their exceptional quality and brand recognition by our clients. Sugarcoat strives to bring the best brands, latest colors and top quality nail care products to our clients. Beauty veteran Dineh Mohajer, who revolutionized the color cosmetics industry when she launched polish line Hard Candy, also created Smith & Cult. The nail polishes are 8-free and some of the best on the market. Pure Fiji is simply heavenly—especially their lotions, body butters and sugar scrubs.
The Outreach
We firmly believe in supporting and making a difference in our community. We help various charities, like Children's Healthcare of Atlanta, Mercy Care Atlanta, Susan G. Komen, Senior Citizens of Atlanta, March of Dimes and local schools. We live to serve those around us by donating funds and time to help as much as we can.
Social Life
We promote our business daily on Instagram and Facebook. Facebook has been very useful and an effective marketing tool for us. We spend marketing dollars for sponsored ads to target and inform our audience about specials and events.
Up Close with Peiru Kim
What was your first job in the nail industry?
"The owner and operator of this salon! I started Sugarcoat after working as an asset manager in real estate development. I jumped into the business in 2010 not knowing anything about the nail and beauty industry."
RELATED: Savvy Salon – Prép Beauty Parlour, Vancouver, Canada
What inspires you?
"My desire to live a life full of love and purpose. I want to serve and help others make a difference in their lives for the better—no matter how small. I strive to create the best nail salon and workplace for the community and the hard-working women who I'm so blessed to work with day in and out."
What was the biggest mistake you made when opening the salon?
"Choosing the wrong contractor for build- out. Hiring the right contractor is key to opening on time without delays. I hired a contractor who wasn't efficient and cost us additional time and money."
What was your most recent impulse buy for your salon?
"A fabulous 72-inch chandelier from Restoration Hardware."
What's your best advice for new salon owners?
"Hire the right team. They'll make or break your salon. Highly qualified, seasoned and talented professionals will help build your business. Don't rush the hiring process; check references and have the candidate perform a live, onsite demonstration."
I can't discuss Sugarcoat without . . .
"Mentioning the talented and gifted staff. The team is second to none! They're hard working, dedicated and truly the best in the world. Sugarcoat would not exist without them."
–by Angelina Lewis
This story first appeared in the March issue of Nailpro magazine. To receive the magazine, click here to subscribe.
[Images: Courtesy of Sugarcoat Nail & Beauty Bar]