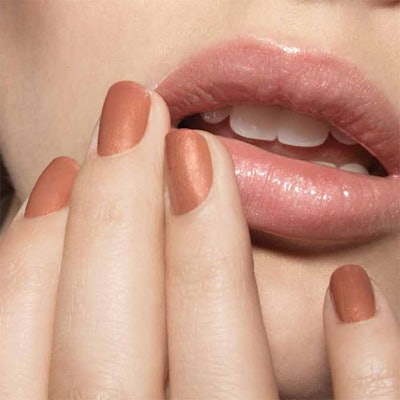 There's nothing more chic and sophisticated than wearing a nude nail that perfectly complements one's complexion—which is why the trend has persisted in fashion, entertainment and beauty. And now, more than ever, there are a plethora of nude nail hues to choose from—ranging from every shade of dark to light and cool to warm—to ensure a perfect match for clients of all skin colors. "A clean, timeless nail will always be on trend," says Cuccio Colour managing director Rachel Schafer. "A nude nail allows us to make a statement without color."
Choosing a complementary neutral nail shade from the dozens a salon may have on hand can be intimidating for clients, but the right match can make all the difference in the final result. "Everyone has a unique complexion," says NAILPRO Competitions director Jewell Cunningham, who has studied color analysis. "Nude tones are an extension of the hand, so choosing the wrong color can clash with and flatten the appearance of the skin, rather than enhance it." Fortunately, there is a method to the madness, and helping clients choose the right color is not only excellent customer service, but it also establishes your position as a nail professional and trusted service provider.
RELATED: Dare to Go Bare: Four Hot Nude Nail Art Looks to Try Right Now
The goal of color-matching is to find the correct top and undertone in both the skin and nude color. The skin's top tone is the color visible on the top of the hand. It reads pink, brown, orange, red or taupe, while the undertone of the skin is found under the wrist and shows tones of either blue, green or yellow. To begin the color-matching process, CND cofounder and style director Jan Arnold suggests identifying the top tone of the skin to determine the general shade for the client, and then narrowing it down using the undertone. "Match the undertone of the skin to the undertone of the polish," she says. "To determine the undertone of a polish, paint a thin swatch on a white surface to designate either warm or cool pigments." Determining undertones of the skin can be as simple as looking at a client's wrist against swatches of gold and silver fabric to see what looks best. Another quick way to determine a client's undertone is to look at the natural nail bed. "Typically the tones you see in a healthy nail bed will match your client's overall coloration," says Richael Corr, nail artist and CND education ambassador. "Make sure to use natural lighting, as artificial yellow light my taint tones. You can always step outside for a second if you need to double check it," she says.
Clients with blue veins and a bluish-gray cast have cool undertones, while those with green veins and a yellow cast have warm undertones. "If a client with caramel-colored skin and warm undertones chooses a color with cool undertones, it may look flat and gray against the skin," says Arnold. "Warm (yellow, orange and red) undertones love warm shades. Cool (blue) undertones love cool shades."
RELATED: Neons and Nudes at Miami Swim Week
It's also important to remember that color can affect each person differently depending on other factors, including skin tone, body temperature, circulation and even emotional state, says Cunningham. "The average person doesn't realize how reactive colors are to their emotional state or where they are in their lives," she says. She recalls a story from school when she was practicing color analysis profiles: Cunningham and her classmates held a color swatch underneath a young woman's chin and found it hard to pinpoint exactly how it reacted with her. "When we couldn't make the colors work and felt a blockage,
we stopped and told her what we were searching for and the meaning behind the color," recounts Cunningham. The young woman then broke down crying. As it turned out, she had been arguing with her husband and experiencing relationship issues. When color vibrations were difficult to match, Cunningham says, more often than not, it was because of an emotional blockage. As a nail tech, you may find that helping clients select a nude nail shade may also involve finding out where they are emotionally. "Personally, if I choose a nude nail over a bold color, it's because of my mood," says Schafer. "It's a sign that I'm dealing with something complex at the moment, and it's my way of keeping everything status quo. Nude nails allow you to be you with nothing to hide—no color to mask anything."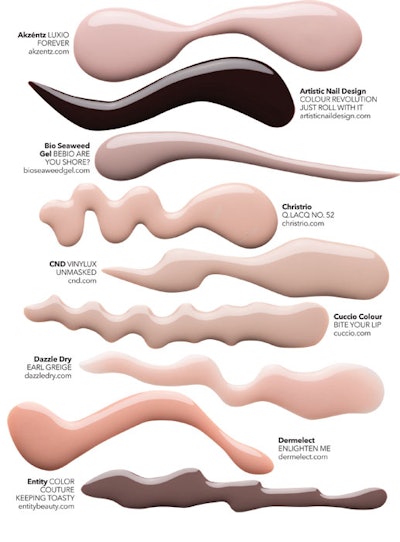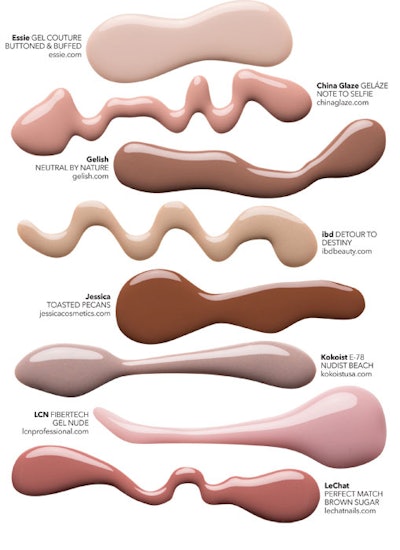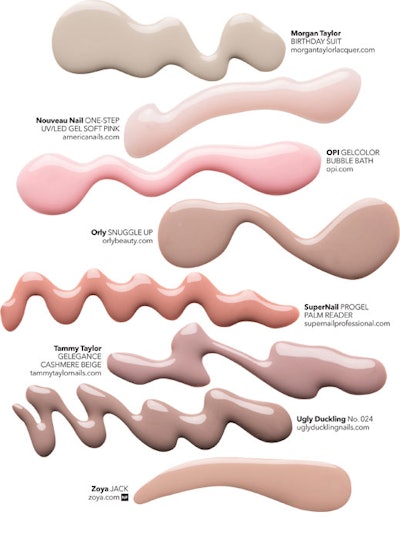 –by Angelina Lewis
This story first appeared in the February issue of Nailpro magazine. To receive the magazine, click here to subscribe.
[Images: Brooks Ayola; Getty Images]