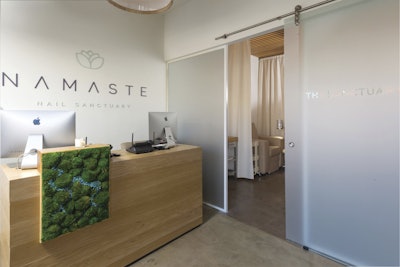 Owners Mecca and Michael Elliot invite NAILPRO into their wellness-centered salon.
The Look
At Namaste Nail Sanctuary, tranquility starts as soon as our guests enter. They're greeted by our sanctuary associate at the front desk, as well as our beautiful water installation that drowns out the noise from the street. Our salon has the delicate scent of white sage from candles, diffusers and incense, and we also have a three-zone air purification and ventilation system by Aerovex that helps maintain the pleasant scent of the sanctuary where clients receive services. The decor of our salon is understated and modern, and has a monochromatic color scheme with touches of natural wood, stone and our signature moss lotus flower. Namaste offers limited seating for services. Each custom-made chair is set apart with draping to give clients privacy and the chance to relax. And, each station is equipped with a personal TV and noise-cancelling headphones. We've also designed our salon so that our break room, bathroom and office are all accessible from a separate hallway so our clients' experience is not disturbed. The Cocoon Room, which is exclusive to our members, is dedicated to meditation and relaxation.
Related: Cute Nail Studio Brings color and charm to nail art.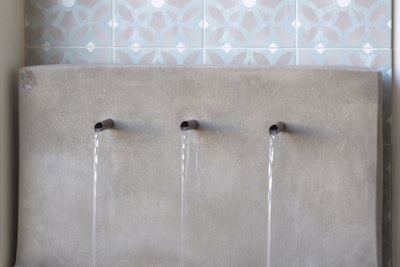 Signature Services
We want our guests to relax, meditate and rejuvenate while we take care of their hands and feet. Our most popular service is the Vibrant Manicure and Pedicure, which begins with a cleansing hydrosol mist, followed by a skin-nourishing warm water soak, classic nail and cuticle maintenance, premium exfoliation and a choice between a hydrating paraffin treatment with essential oil-infused towels or our luxurious Fire & Ice moisturizing treatment. This service is $145 for nonmembers and $100 for Namaste Nail Sanctuary members.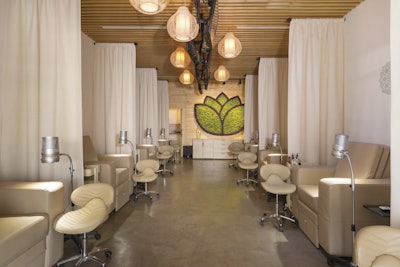 The Goods
Delivering our guests an elevated experience is important to us, and our products extend that intention. We offer many products that are vegan, organic, low in toxicity and cruelty-free. Our lacquer and gel polish lines include Smith & Cult, Orly, Bio Seaweed Gel and Young Nails. We utilize an array of Footlogix products that are beneficial for foot and skin health, and are safe for sensitive skin and diabetics. Ayurvedic, ghee-based, vitamin-rich products from Skin Soma are also part of our quality offerings. Our retail is chosen with our guests in mind: We currently offer the Deepak Chopra Dream Master, crystal water bottles, Smith & Cult polishes, white sage incense and curated jewelry pieces from local artisans.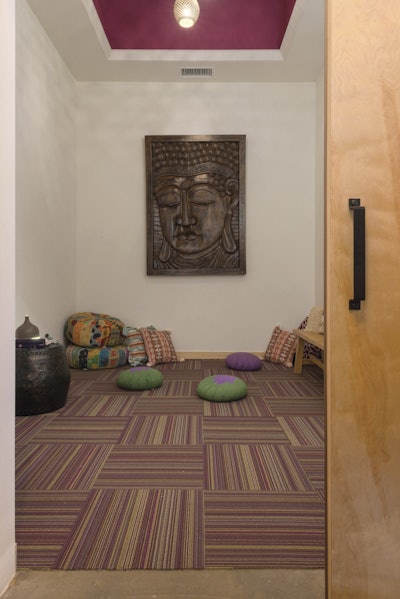 Social Life
Social media offers so many great opportunities. We utilize Instagram to communicate who we are, what our philosophy is and what we can offer potential clients.
Up Close With Co-Owner Mecca Elliot
What was your first job in the nail/beauty industry?
My first job was as a hairstylist and salon owner in Texas for 15 years. As for my husband, Michael, he's the founder of Hammer & Nails Grooming Shop for Guys, whose flagship location on Melrose Avenue is in its fifth year and is now a growing franchise.
What inspires you?
I'm inspired by sharing the positive benefits I've personally experienced through meditation. I'm a trained Deepak Chopra International Meditation teacher, and I credit meditation with saving my life.
What was the most unexpected thing that happened when opening your salon?
As part of their experience at Namaste Nail Sanctuary, clients are offered the option to meditate during a service. We didn't plan on guests being so relaxed that they would fall asleep! We had to instruct our nail techs to wake guests up before applying polish or gel, as it's very difficult to polish sleeping hands!
What's your go-to client conversation starter?
Would you like to experience our relaxation and meditation aid, the Dream Master?
I can't discuss Namaste Nail Sanctuary without …
Highlighting our relaxation and meditation focus for our guests.
Visit Namaste Nail Sanctuary:
On their website.
On their Instagram.
[Images: Courtesy of Michael McNamara, Shooting LA]
This article was first published in the September 2018 issue of NAILPRO