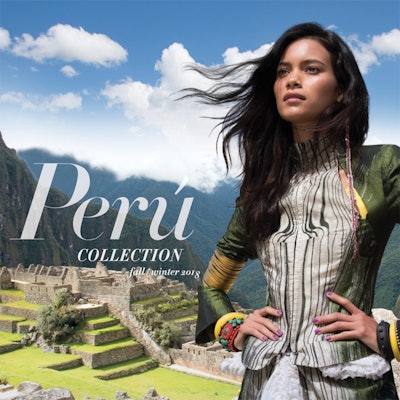 Join OPI on their most exciting journey to date as they visit one of the seven wonders of the world this fall with the Peru Collection by OPI. Seeking natural beauty with a bohemian vibe, inspiration was everywhere, from stunning geological sites like Rainbow Mountain to the magnificent Incan ruins of Machu Picchu. With deep roots in ancient culture visible across the country's architecture, food and fashion, Peru offers visitors a transcendent, spiritual experience. They're thrilled to share a look at this extraordinary country with women across the globe for Fall 2018.
In developing the Peru Collection, OPI drew inspiration from earthy, sandy landscapes with dusty mauve undertones (Machu Peach-u, Somewhere Over the Rainbow Mountains, Suzi Will Quechua Later!, Seven Wonders of OPI) and beautifully crafted textiles with vibrant statement hues (Lima Tell You About This Color!, Alpaca My Bags, Don't Toot My Flute, Grandma Kissed a Gaucho). Seductive deep reds and burgundies (My Solar Clock is Ticking, I Love You Just Be-Cusco, Como se Llama?, Yes My Condor Can-do!) inspired by red sand beaches, colorful historic buildings and the Peruvian flag round out the collection. "Peru is undoubtedly one of the most gorgeous places in the world," declares OPI Co-Founder and Brand Ambassador Suzi Weiss-Fischmann. "The country is rich inculture and beauty. The food scene is booming, with Lima – the capital of Peru – boasting three of The World's Best 50 Restaurants. The fashion scene is equally exciting, highlighting stunning textiles, artisan techniques and fine detailing."
Peruvian fashion model Juana Burga, the face of the Peru Collection, joined OPI in travelling the country, showing off its incredible landscapes and history. "With Juana, we met with artisans from the Peruvian highlands, where we learned so much about the country's iconic handmade, sustainable fashion and textiles created using techniques that have been passed down for hundreds of years," explains Weiss-Fischmann. "These women and their craft inspired many of the collection's colors. In exchange, we shared with them our own love of color through nail lacquer. Color is truly a universal language, serving as a visual cue that connects us with our environment and emotions. As simple as it is, sharing a laugh over manicures, picking out favorite colors and showing off our perfectly polished nails was an empowering experience that connected us across cultures." All 12 Peru Collection shades will be available in GelColor, Infinite Shine Long- Wear and Nail Lacquer formulas, offering consumers and professionals a variety of choices for the best products to fit their needs. GelColor provides performance with up to 3 weeks of shine-intense wear and stay-true color., while Infinite Shine offers a high-shine finish with up to 11 days of wear and traditional lacquer application. Nail Lacquer features a highly-pigmented, rich formula for even application without streaking.