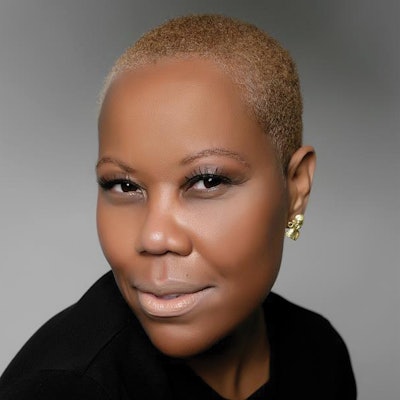 Maisie Dunbar, nail tech, mentor, motivational speaker and owner of The Maisie Dunbar Global Experience in Silver Spring, Maryland, joins NAILPRO for the next three months to provide you with advice and answers to your nail questions.
Q: Do you have any advice about building your brand from the ground up? I've started a mobile business in hopes of having my own salon down the line. —@queenraexo, via Instagram
A: To build your brand, you have to be true to who you are. We live in a day and age where it's easy to look at someone else [on social media] and see how they're doing things and want to try what they're doing. But often, what you see is not the entire picture; you never know the sacrifices they've had to make. However, if you stay true to yourself and your own personal vision, and if you exercise a no-compromise way of leadership, your brand will be fine. When it comes to branching out your business, just a word of caution: While I'm not against a mobile business—it's a great business model for those who prefer to have treatments at home—I think that nail pros often don't charge enough for the luxury they extend to their guest. Be mindful of this as you expand your business.
Q: I'm working my way from the corporate world to a full-time nail technician. Do you have any advise on making the transition? —@mobilenaillounge, via Instagram
A: The best advice I can share when transitioning from corporate to the nail industry is to set a timeline for yourself; decide now when you will go full-time as a nail professional. After all, if you do anything part-time, you'll only achieve part-time results. Then, use your time to prepare. Get to know the market, and decide what kind of guest you want to serve. Use your corporate coworkers to help refer other like-minded people to your new business. Lastly, be intentional and committed for the long haul; accept that failure is not an option.
Q: With so many nail pros on Instagram, it's hard not to compare my work to others. Do you have any advice for staying motivated? —Sarah Chaldress, via email
A: You stay motivated by working on being the best you can be. Remember, your clients come to you and refer business to you, not your competition. Instagram can be very overwhelming; it's easy to compare yourself to others. Instead, look at yourself in the mirror and make affirmations about being the best. If you find that Instagram is affecting your motivation, just go on to post your work and leave; don't spend so much time looking at others. Be you!
Q: What's your best advice for keeping your salon staff motivated and enthusiastic? —Michelle Nguyen, via email
A: My best advice is to keep yourself enthusiastic and motivated; that spirit and drive is contagious. It's also important to have a leadership approach of honesty, and reward your rock stars handsomely. Do not expect your staff to do what you're not willing to do yourself. Be grateful for the smallest things that your team does, and always work together.
Have a question for Maisie? Email it to [email protected]
[Image courtesyof Maisie Dunbar]
This article was fist published in the February 2018 of NAILPRO