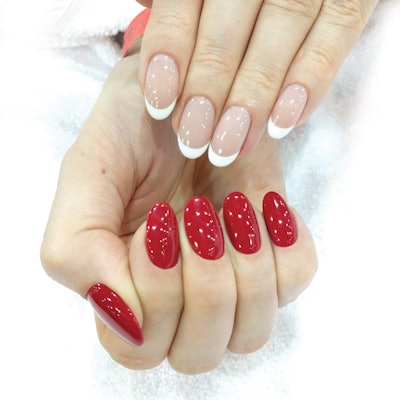 If you've wanted to enter a nail competition, but aren't quite sure where to start, there are a lot of reasons to consider the Soak-Off Gel Application category. "This is a great way to get your competition feet wet," says NAILPRO Competitions global director Jewell Cunningham. Why? For starters, it's a quick event, lasting only 30 minutes. Also, since the competition simply requires you to apply red gel color to one hand (your choice), and pink-and-white gel to the other, the requisite skills should be familiar to you. "You already know how to apply red gel polish and French gel without having to go to competition classes or get any special training, so this category is great for first-time competitors," explains 2016 NAILPRO Cup champion Shiori Durham.
Soak-Off Gel is also appealing because it's the category that consistently kicks off the competitions. "It's a great warmup if you'll be competing in other categories," says 2015 and 2017 NAILPRO Cup champion Allie Baker. Even if you don't participate in other events, once you've wrapped up this competition, you'll have time to enjoy the trade show, adds Durham. Have we piqued your interest yet? Then check out our expert advice on how to not only attempt, but excel in, a Soak-Off Gel competition.
Preparation Pointers
How do you practice for the Soak-Off Gel Application event? As noted above, you probably already are practicing every day in the salon. "Soak-off gel application is one of the most popular services now, so it's an important skill for nail technicians to have in order to be successful in their careers," notes Iryna Zabiran, a veteran competitor who regularly takes first place in the category. "If you practice the application in your day-to-day work and make sure that you can do it within 30 minutes, then you can just repeat the same process during competition."
However, unlike salon nails, you want to prep your model's nails in advance with a flawless manicure so they're ready to be painted as soon as the event begins. "Make sure you clean everything—under the cuticle area, nail sides and under the nails," advises Zabiran. Consistency is crucial, so make sure that all of your model's natural nails are the same length and shape, too. "This makes it a lot easier to create consistent smile lines," adds Durham. "When I prep my model, I use a ruler for deciding the length, then I file each nail to the same length and shape."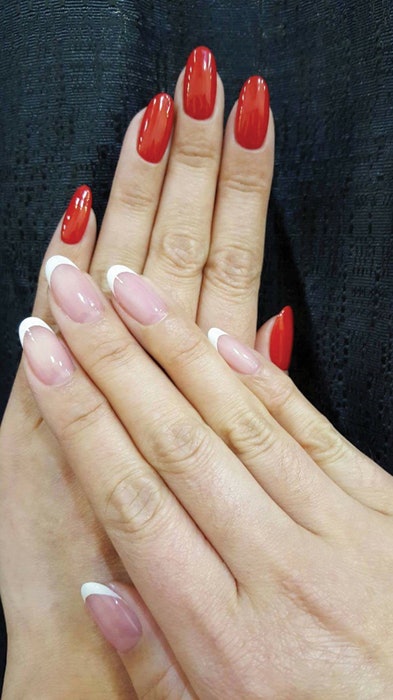 Timing Tips
One of the most challenging aspects of this event is the 30- minute time limit, but having all of your products out can be helpful in this regard (plus, it's one of the requirements!). "I unscrew the lids of my polishes and have everything laid out and ready to go," says Baker, who adds that she saves time by skipping the base coat. "It's an extra step that, if not done perfectly, can really hinder a smooth application—and it isn't necessary, since the goal is not longevity of wear," she explains.
Zabiran does apply base coat, but she makes sure to multitask. "Usually I'm working with both hands at the same time," she notes. "When I'm applying base coat, I'm doing only four fingers on each hand, and then doing the two thumbs separately. Then I put top coat on one or two nails at a time." Multitasking is also part of Zabiran's plan when curing the nails. "While curing, I'm working on the other hand, and vice-versa," she says.
Durham has an additional curing strategy to save time: "I train my model to move her hands quickly when putting them under the lamp and taking them out of the lamp." The kind of curing lamp you use can also help with the time limit. "I use an Akzentz Hybrid Pro One lamp, but you can use any LED or UV lamp that is at least 36W," says Zabiran. "LED lamps are preferable because they cure gel polish faster than UV."
Gear Guidance
Tools and products are obviously a matter of preference, and champions in this event definitely have their favorites. "I love Orly GelFX Easy-Off Basecoat because it makes the nail surface really smooth, so it's easier to apply gel color on top of it," says Durham. Plus, she says, the product is easier to soak off than other base gels, which is important if she'll be using the same model for other events that day.
As a Team EzFlow competitor, Baker is a fan of the brand's TruGel polishes in Matador (red), Tutu (pink) and Whipped Cream (white) for this category. She also relies on specific brushes for an extra edge (literally). "My go-to items are my flat rounded edge gel brush that I use for my first coat of polish," she says. "I use this instead of the bottle brush so I can get nice and close to the skin and achieve a smooth perimeter around the nail. Next, I use a small art brush to polish on the white free edge, and lastly, I like my flat square gel brush to clean the smile line."
Zabiran has a favorite brush, as well: "For solid color application, the first layer should be as thin and close to the cuticle as possible; to do that, I use a thin linear brush." As for the gel polishes, she's tried a few brands and prefers Akzéntz Luxio in Classy (red), Blush (pink) and Polar (white). "They have just the right viscosity and good pigmentation," she explains. "Luxio top coat is also very good—it's glossy and goes on in a thin, smooth layer." For extra shine, Zabiran lets the nails cool down before removing the sticky layer after polymerization. "I use Akzéntz Prep and Wipe for that," she notes.
Arena Advice
When you get to the competition, you may feel like you're a long way from the safe space of your salon—but there are ways to set yourself up for success. For instance, Durham doesn't just put her products out on the table; she makes sure that they're set out in the order that they'll be used for the competition.
This is another time when a well-trained model can be a huge asset. "I've sort of trained my models to help me to stay on track," notes Baker. "Since I'm constantly switching hands and only doing each step on a couple of nails at a time, it's easy to lose track of where I am in terms of how many coats I've applied—my models help me to make sure I don't miss a step."
Winning Wisdom
Straightforward as Soak-Off Gel Application may sound, to make it to the winner's circle, everything needs to be as perfect as possible. "Competitors tend to think it's a simple application, but a huge issue—and the biggest error that even a seasoned competitor can make—is not curing the product completely," notes Cunningham. "Especially in this competition, cleanliness of application, meaning great gel application, is what is really going to set you above the other competitors." Again, consistency—particularly in smile lines and shape—as well as making sure the nails are completely cured and shiny will impress the judges, Baker concludes.
Specifics: Soak-Off Gel Application
For this category, competitors have 30 minutes to apply red soak-off gel polish to the natural nails of one hand (competitor's choice), and traditional pink-and-white soak-off gel polish to the opposite hand. Additionally:
• No enhancement products other than soak-off gel polish may be present at the station. No traditional gel may be used in any capacity.
• Competitors must have all of the products they plan to use out and displayed on their station for inspection by floor staff before the competition begins. Items must be in original containers that clearly read soak-off gel.
• No typical manicure will be performed during the competition. Model's nails should be prepared for soak-off gel polish application before competition start time is called.
• All files and buffers must be new.
• Cleansing products, including oils and moisturizers, are allowed.
• No artwork is allowed.
For more specifics, visit nailprocompetitions.com.
–by Alexa Joy Sherman
This article was originally published in the December 2017 issue of NAILPRO.
[Images: top courtesy of Iryna Zabiran, bottom courtesy of Shiori Durham]