In need of a brand new e-file and bit designed for safe e-manicures? Join NAILPRO and Kupa Inc. on Facebook Live on Tuesday, August 22 at 1 pm PST on Facebook Live as Elaine Watson shows you on to use Kupa's Diamond Bits, the new MANIPro Passport Limited-Edition Phantom e-file and the new ArtFinity TripTych acrylic powder system. During the stream, one lucky viewer will win big.  

During the live stream we will giveaway one MANIPro Passport Limited-Edition Phantom and Manicure Bit. So you'll definitely want to watch the entire stream to claim the prize! To enter, we will provide a code for you to text and join and the winner will be announced live.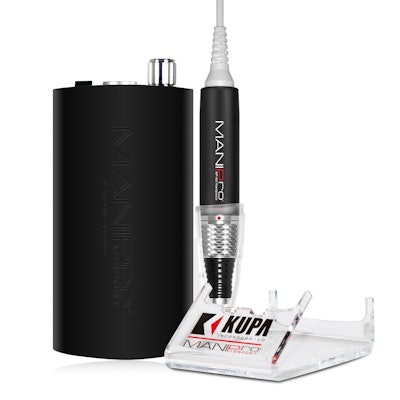 The brand new MANIPro Passport Limited Edition Phantom includes the all new KP-60 handpiece that is lighter, faster and more elegant than the handpiece made before. This powerful portable electric nail file has been designed for the professional nail technicians who demand power and portability. The MANIPro Passport features a light weight battery powered, an acetone-resistant finish control box. This unit can provide anywhere from 8 to 10 hours of use per charge in either 110v or 220v. The MANIPro Passport also comes complete with a stainless steel belt clip and a plastic handpiece holster which can snap on either side of the control box. 
Don't miss your chance to win this ultimate e-manicure prize by watching live on Facebook.