By Alexa Joy Sherman
As the industry becomes increasingly art-focused, some salons are seeing the value in having a creative director on staff. Here, we take a closer look at what this new role entails and how it's proving to be a boon for business.
The job of a nail tech has always been an artistic one, requiring creativity at every turn—and that's never been truer than it is today. According to the 2016 NAILPRO Essentials State of the Industry report, most techs now get requests for nail art up to nine times per week, and charge between $10 and $36 for the service, depending on the difficulty of the design. That's one of the many reasons some salons are bringing creative directors on board. "There is so much happening in the industry, so I felt we needed a creative director to keep us on top of the latest and greatest trends," says Tiann Hadeed, owner of Juniper Natural Nail Bar in Seattle. Since taking on that role in 2016, Kelly Ornstein has helped Juniper to distinguish itself from other salons in the area. "We were the first to do natural nails, nail art and design the way that we do," notes Hadeed. "I can't imagine we would have grown as much as we have without Kelly." Although artistic direction and color selection are clearly a big part of the role, creative directors tackle a variety of additional tasks. Here, we take a closer look at what the job entails, what qualifications tend to be required and how creative directors could affect the future of the nail business.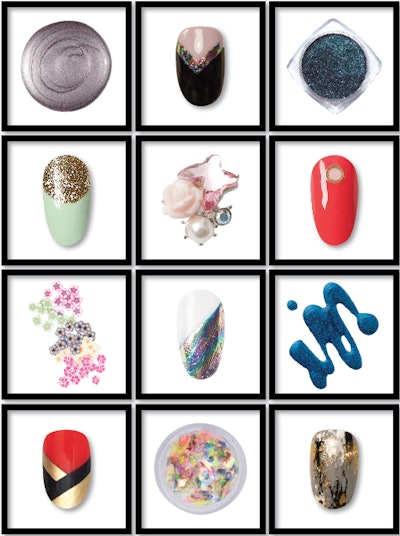 Pinpointing What's Popular
First and foremost, creative directors track what's hot in the world of nails in order to bring the best options to their salon's specific clientele.
"Nail art is sometimes overwhelming, so it's key for us to have a creative director who can interpret runway and editorial trends and bring these looks to our clients," says Eleanor Langston, founder and CEO of Paintbox in New York City, whose creative director is celebrity manicurist Julie Kandalec. In creating the seasonal lookbooks for Paintbox, Kandalec draws upon her vast ties to the fashion, beauty and entertainment industries, as well as gathering input from the other Paintbox techs and the clients themselves. "I'm able to use my salon, freelance and education experi ence, along with my relationships with beauty editors, celebrities and brands, and funnel it all into one giant, fantastic project," says Kandalec, who ultimately narrows the designs down to about 20 nail art options each season. Those designs are then printed in a lookbook that's presented to clients, with a $58 price-tag for a polish manicure and $68 for gel. Additionally, all the looks can be customized based on what the client wants.
Putting together the nail art menus is Jessica Washick's favorite part of her role as creative director for Van Court in New York City, and she says she finds inspiration for her work everywhere. "I choose colors that are seasonally relevant and create menus offering new ways to wear them," she says. "It's essentially a snapshot of what's currently happening in the world of nails. It's not necessary for a client to choose one, but it helps them to make their own decisions and tailor a nail look to their style."
With prices ranging from $2 to $5 per nail, depending on the complexity of the design, the nail art menu at Van Court features 16 to 20 looks each season—typically four to five designs, along with three to four colorways for each. But the manicurists at Van Court do create custom nail art as well. "Our nail technicians often use the menu as a guide and change out the colors to make the design theirs," Washick says. In addition to creating the nail art menus, Washick also decides which brands to carry at Van Court, where all lacquers are 5-, 7- or 9-free, and the salon's partners include Deborah Lippmann and JinSoon.
Although initially hired as a nail artist and desk manager for Juniper Nail Bar, Ornstein quickly took on the role of creative director. "It's weird how many people tell me they have never seen nail art before—or if they have seen it, they didn't know where to get it in Seattle," says Ornstein. "My role has definitely given serious momentum to nail art at the salon, and you need that clear distinction to set yourself apart from what else is out there."
Ornstein's designs are inspired by everything from nature to jewelry to textiles to cartoons. "When something comes to mind, I draw it in my sketchbook," she reveals. "My creative process can be very analytical and experimental." She then creates anywhere from 10 to 20 looks, which change every month or two. "The menu works in three parts: Our classic looks, seasonal looks and then holiday looks when applicable," Ornstein notes. On top of any salon service, nail art tends to run $5 for a single nail to upwards of $80 for a whole set, depending on the complexity and time required for the design. The manicurists in the salon also have the freedom to create other artistic designs, based on what the client wants. "The menu is supposed to serve as a jumping off point to get clients inspired," says Ornstein, who is also responsible for determining what nail art products to stock at the salon.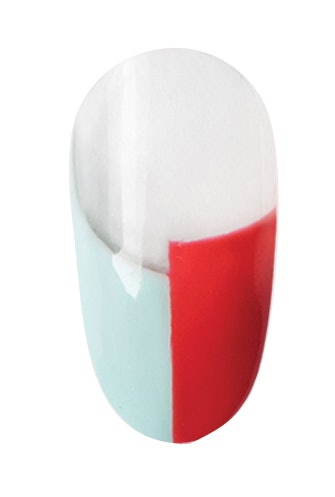 Not-So-Basic Training
As the ones who come up with the nail art designs, creative directors also play a key role in making sure the salon's staff can deliver them to clients. "We present the looks at our staff meetings and then do one-on-one training to make sure each look is perfect before its launch," says Langston. "Julie provides continuing education to our team, training the staff on all of our looks, as well as relaying the latest trends and techniques from the runways, conferences [and other industry events]. It takes about three weeks of training before each launch." Kandalec helped to create online training videos that are used internally at Paintbox as well, so the staff can troubleshoot and continue to hone their skills. Of course, that doesn't stop her from continuing to work as a tech at the nail studio. "Especially when we have VIP clients—Rihanna, Lea Michelle and Emma Roberts have all been in—Julie does the nails," says Langston.
Workshops with the Juniper staff are part of Ornstein's role as well. "I'll show techs how to do the design and then they practice," she says. "This gives me an opportunity to watch them work. Not everyone has the same background or passion for nail art as everyone else—some are beginners and some are more advanced—but because I work in the salon, I'm always around for questions."
If clients have specific requests, Ornstein may also assist with those. "If they want to use lime green, I'll suggest other colors that might work with that—or if they want to add negative space to a design, I can suggest where to work that in," she explains. "My objective is to teach the manicurists how to perfect the basic techniques, designs and patterns, and then hopefully they feel confident enough to embellish them and develop their own style." Ultimately, says Ornstein, she's responsible for handling quality control when it comes to all nail services, from the use of gel and polish to nail art to the consistency of the designs themselves.
Although Washick doesn't work in the salon, she does have a relationship with the studio's nail artists that takes their collective skills into consideration. "I've worked with almost all of the Van Court nail technicians in my career as an on-set manicurist," Washick explains. "They're all extremely talented and knowledgeable not only in nail care, but in how to paint a lasting manicure. I always keep in mind that the looks I create need to be translatable in order for our manicurists to recreate them."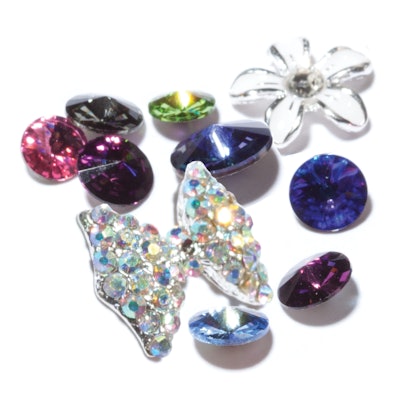 Looking Ahead
While there aren't many creative directors in the industry yet, salon owners believe that they'll be a bigger part of the business soon enough. "When it comes to nails and the beauty service industry, I believe creative directors will become more and more integrated, especially for establishing and growing brands," says Kallens. Hadeed maintains that having a creative director is "an absolute necessity for any successful nail business," particularly for those that are artistically-driven. Langston is equally convinced, noting, "The nail designs Julie creates have helped us to become a leader in the industry." At a minimum, creative directors may be brought into salons as consultants.
Ultimately, the creative director is a unique kind of nail professional who can help to elevate the salon experience for clients and staff members alike. Says Ornstein, "There are so many sides to running a business and having someone specific to fuel and rally creative relationships between coworkers, clients and communications while keeping the salon's audience and aesthetic in mind is key to evolve your business."
---
Creative Qualifications
There's no "creative director" course that you can take when you train to become a nail tech (at least not yet!), but those who hold the position say salon experience is a must. "The only way to truly understand the full scope of the industry is to have completed school and spent time with clients," says Julie Kandalec, who worked at a busy salon in Ohio for 10 years prior moving to New York, where she also worked long weekends in a salon for two years before Paintbox opened. Jessica Washick agrees, saying, "It's imperative to be a nail technician. You need that experience to know your audience and relate to your customer."
Being savvy about fashion and entertainment is also a bonus. As a celebrity manicurist, Kandalec has worked closely with a wide range of A-listers, including Viola Davis and Demi Lovato. She also has extensive editorial experience with magazines, including Vogue and Vanity Fair, and has worked on runway shows for such icons as Hervé Léger and Helmut Lang. Prior to working in the nail world, Washick received her Bachelor of Fine Arts in Fashion Design from Parsons School of Design in New York City, and subsequently worked for Coach and Marc Jacobs. Even now, she's a color designer for Nike in addition to being the creative director at Van Court. She also does A-list celebrity and editorial nails and designs looks for New York Fashion Week.
Kelly Ornstein comes from a design background as well, having earned her BFA from Rhode Island School of Design in jewelry and metalsmithing. She is also state board certified in New York and Washington, as well as a certified Bio Sculpture Gel technician. "I happen to have an art degree and have always been a practicing artist, but I think what's really important is having a creative spirit with a basic understanding of design and color," she says. Additionally, Ornstein has been part of Deborah Lippmann's New York Fashion Week team, and her work has been featured online and in magazine editorials, including Martha Stewart and Refinery 29.
---
Alexa Joy Sherman is a freelance writer and editor based in Los Angeles.