Images Luxury Nail Lounge is a Southern California-based chain offers first-class services at four sophisticated spots.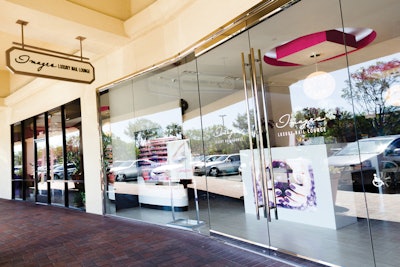 DISTINCTION
We offer a relaxing environment for our clients to experience first-class service with a glass of wine or champagne. We are well known for our $25,000 manicure service that includes GIA diamonds along with 24K gold. Other services include non-surgical cosmetic procedures performed by licensed physicians, such as Botox, Liposonix and Thermage. We have four salons in Southern California: a second salon in Irvine and two in Newport Beach. They are located in mostly affluent neighborhoods with upscale malls.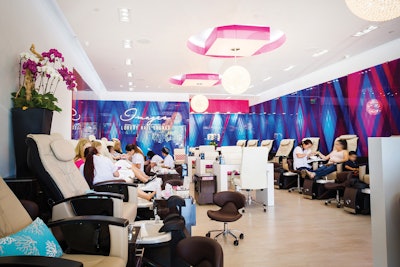 THE LOOK
We used a team of top architects and designers to custom-build the interiors of all of our salons. Our goal is to provide clients with a luxurious environment.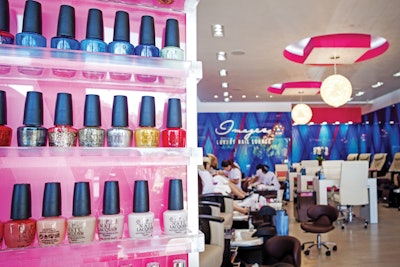 THE CLIENTELE
Each location has a unique set of clients for that area; it ranges from young professionals to established business owners to retirees. Services include traditional manicures as well as trendy nail art, and visits last from 30-60 minutes. We also have male clients who come in regularly for mani/pedi services.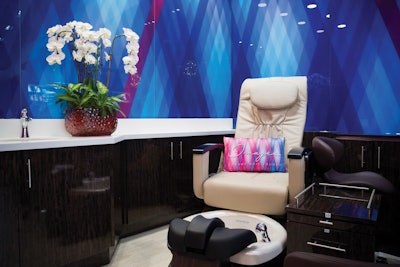 IN-DEMAND SERVICE
The most common nail services are gel manicures and pedicures. Of our non-surgical cosmetic procedures, Botox is the most popular.
SOCIAL MEDIA
Facebook is the most active social media channel for us.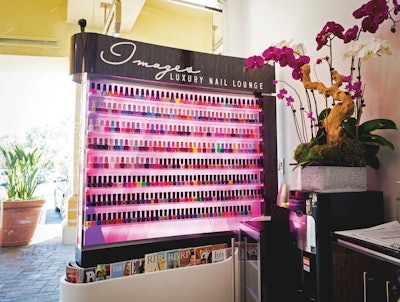 PRAISE
The best compliment we've received about Luxury Nail Lounge is a client who said, "I'm going to bring my family and friends!"
THE GOODS
We use polish brands that are a minimum of 5-free and we also retail Dermalogica products for those clients who regularly get facial services.

ADVICE
Don't lower your prices and lessen your services to be competitive. Also, when you have multiple locations, managing the staff and technicians while ensuring good client relations is key. Be sure to hire experienced managers, and make customer service a No. 1 priority for the salon.
Images Luxury Nail Lounge Facts:
Year Opened: 2014
Address: 3881 Alton Parkway,
Irvine, CA 92606
Phone: 949.783.5388
Hours of Operation: Mon.-Sat.
9 a.m.-7 p.m.; Sun. 10 a.m.-7 p.m.
Website: imagesnaillounge.com
[Images: Courtesy of Images Luxury Nail Lounge]
This article was first published in the April 2017 issue of NAILPRO