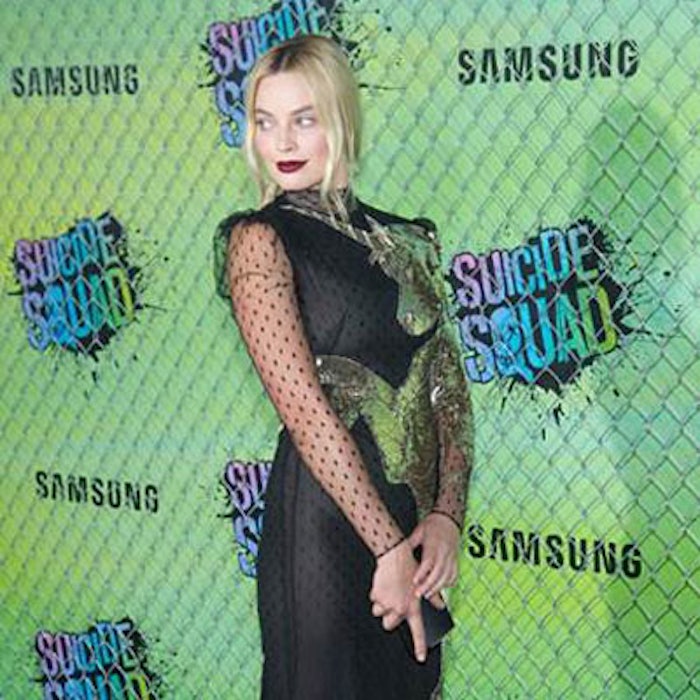 After months of waiting, Suicide Squad fans got a taste of heaven at the film's red carpet premiere in NYC on August 1st. If you weren't already fangirling (or fanboying) over the fact that Margot Robbie is playing Harley Quinn, you will be after you see her downright EVIL mani by celebrity manicurist Elle. Here, details on the look as well as a step-by-step tutorial to recreating it with lacquer and gel polish.
Get the Look: Margot Robbie's Suicide Squad Premiere Mani
At the highly-anticipated Suicide Squad premiere, Margot Robbie rocked a manicure that had the entire nail art world talking. Featuring a simple nude polish (a custom blend) as the base, her minimalist manicure had the word 'EVIL' painted across it in bold black lettering. Created by celebrity manicurist Elle of @enamelle, this nail design proved that less is more and minimalism is not a passing trend, but a stylish mainstay.
This look comes just in time for Halloween which, as nail techs know, is one of the most inspirational holidays of the year for nail art. If you love this look as much as we do, breathe a sigh of relief because Elle gave us the step-by-step instructions to recreating this design using lacquer and gel polish. Keep reading for instructions!
Lacquer
Step 1
Prep the nail by filing, shaping and applying a base coat.
Step 2
Layer "My Secret Admirer" Nail Lacquer over "Simply Adorable" Nail Lacquer ($8 each).
Step 3
Using a fine tipped brush like one from RCM's Nail Art Tool Kit ($12) write 'EVIL' across your nails (starting with the pointer finger and ending with the pinky) with a jet black polish like "Black Stretch Limo" ($8).
Step 4
Seal the look with a top coat.
Gel Polish
Step 1
Begin the manicure by filing nails into the desired shape.
Step 2
Clean nail beds with RCM Purify and RCM Prep ($4 each) to prepare nails for a gel manicure.
Step 3
Apply a thin coat of RCM Structure Base Coat ($10) and cure each hand for 45 seconds in the RCM Pro 45 Light ($50).
Step 4
Apply a thin coat of RCM Gel Polish in "Simply Adorable" ($10) and cure for 45 seconds; repeat with second coat.
Step 5
Using a fin tip brush from RCM's Nail Art Tool Kit, write 'EVIL' across the nails with RCM "Black Stretch Limo"; start with the pointer finger and end with the pinky on each hand.
Step 6
For a glossy finish, seal the design with a coat of RCM Brilliance Top Coat ($10) and a coat of RCM Revitalize Cuticle Oil.
What do you think of this minimalist look? Share your thoughts with us on Facebook!
For more tutorials, don't miss:
How to Create a 3-D Acrylic Flower
Royal Red and Gold Nail Art Tutorial
Images and step-by-step instructions courtesy of ShopPR.