Day 11 of our December of Giveaways!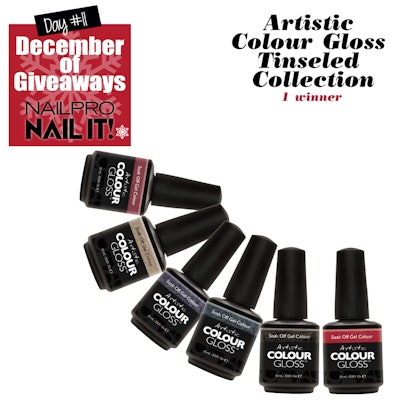 1 winner will get the full Artistic Colour Gloss Tinseled for Holiday 2015! This soak off gel collection includes: Nothing But Naughty (pomegranate red shimmer), Rubies On Ice (deep ruby shimmer), Countdown To Confetti (gold shimmer), Season's Seduction (steel blue shimmer), Party Teal Dawn (dark teal shimmer), and Equin's Greetings (black-gold shimmer). Open Dec. 15 and ends December 16, 2015 at midnight PST. By entering, you consent to the Contest Rules.
This giveaway has ended! Our winners is… Juliet H. of Mesquite, TX!
Visit our December of Giveaways for the most recent giveaway.