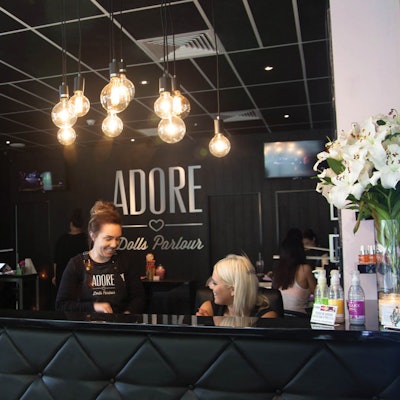 The services at Adore Dolls Parlour are world class and our hygiene and safety standards are second to none, but our culture is what keeps us ahead. We're genuinely happy and honest people, and it shines through every aspect of our brand. Our neighborhood, Varsity Lakes (in Queensland, Australia), is a beautiful new development catering to college students and young professionals, and features saltwater lakes and amazing coffee. Also, due to demand, we've been holding monthly, two-day pop-up salons in Sydney and Melbourne. Plus, we'll be opening a second Adore Dolls Parlour location in Brisbane later this year.
THE LOOK
We're happy to be called a salon, but it was never our intention to be one. Adore Dolls Parlour was meant to be a creative workspace. Aesthetically, our love for New York City's SoHo neighborhood is a huge influence on our design. The decor incorporates dark timber, brushed aluminum, chesterfield sofas and dim lighting.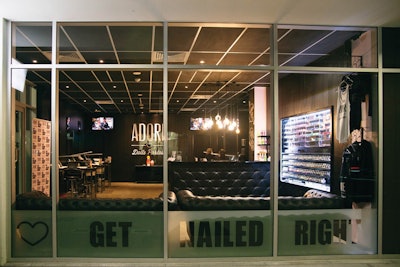 THE CLIENTELE
The majority of our "dolls" are 20- to 28-year-old creative professionals, but we cater to all client types. Men make up less than 1 percent of our client base. Clients typically spend $50 per visit, plus retail purchases.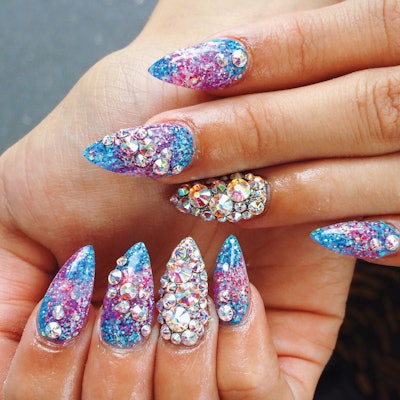 SOCIAL MEDIA
Most of our social interaction occurs on Instagram. The content is aspirational and users get to see our work as well as the staff having fun behind the scenes. Plus, users aren't deterred by our geographical location. Facebook is very different in that users mainly interact to ask questions and make reservations. We also have a lot of fun on Snapchat and Vine.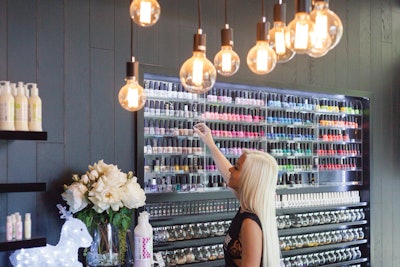 THE GOODS
Our range of polishes includes OPI, China Glaze, MAC and Gelish. We also use Young Nails and CND color acrylics. As for retail, we sell products that we truly value and use ourselves, such as OPI Avojuice lotion and JOSS Cuticle Oil, but a majority of our retail is Adore Dolls Parlour branded merchandise that features our trademarked Get Nailed Right logo.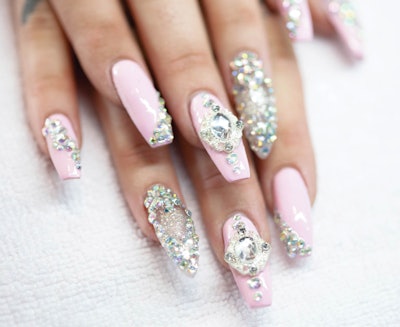 IN-DEMAND SERVICE
When they arrive, each client is offered hand sanitizer and a refreshing hot towel hand massage. Also, implements are sterilized in an autoclave and each client receives a brand new Adore Dolls Parlour file. Currently we've seen a decline in detailed hand-painted art and a rise in bold, neutral colors with Swarovski embellishments. Popular services are our Advanced acrylic/polish, plus two feature nails ($44) and our Advanced X acrylic/polish, plus four feature nails ($49), plus the cost of any Swarovski crystals used. Every service ends with JOSS Strawberry Cuticle Oil and OPI Avojuice hand lotion.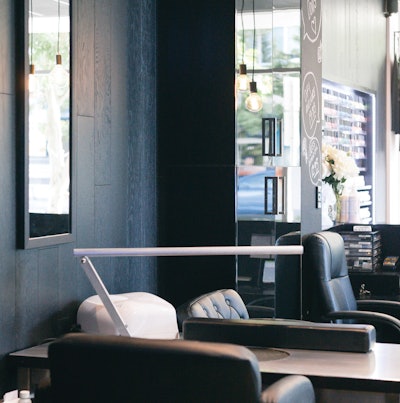 PRAISE
What resonates most with us is how we're able to bring so much delight to our clients, day in and day out. If we weren't in the business of happiness, the Adore Dolls Parlour culture wouldn't exist.
ADVICE
Don't pay attention to the competition; focus on what you're doing. Have your own style and own it!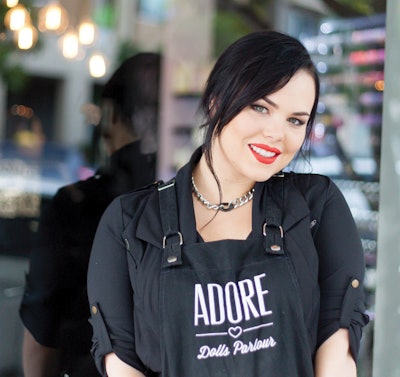 Nicole Hague, owner of Adore Dolls Parlour
 
[Images: Adore Dolls Parlour]