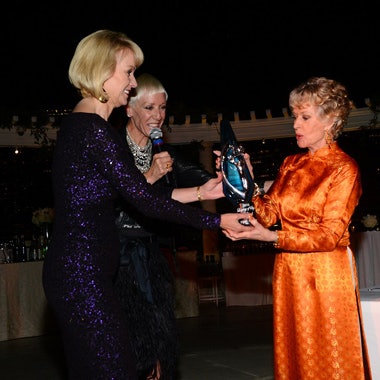 A new scholarship program is bringing together world renowned professional nail care manufacturer CND, Orlando beauty distributor Sunny Beauty Supply, and a pioneer in the professional nail care industry to provide a "hand up" to 20 aspiring nail professionals in Central Florida. Intended to support the local communities of donors for the original BCL?CND | Tippi Hedren Nail Scholarship, launched in 2014, this will be the inaugural localized extension of the program. The BCL?CND | Tippi Hedren Nail Scholarship Orlando will award 20 tuition grants to students enrolled in a nail tech program at a qualifying nail school in Central Florida. The $500 education grants coupled with a CND tool and product kit awarded to each winner represent a value of $1,500. The application window opened March 30, and applications will be accepted through May 4, 2015. Applicants must reside within a 100-mile radius of Central Florida zip code 32803 and can apply via a 500-word essay, video or inspiration board. Winners will be announced at Florida's largest beauty show, https://premiereorlandoshow.biz/">Premiere Orlando.
The community-centric scholarship program is being organized in conjunction with Central Florida nail schools, high schools and salons and is administered by the Beauty Changes Lives Foundation, a non-profit, 501(c)3 that works to raise awareness of careers in the beauty and wellness industry. The new scholarship complements a suite of "national" nail scholarship and mentoring programs offered by the Beauty Changes Lives Foundation. Scholarship details are available at www.beautyhangeslives.org/scholarships.
The inclusion of actress and humanitarian Tippi Hedren in the scholarship name pays homage to Ms. Hedren's efforts that helped thousands of refugees find rewarding careers in the nail industry following the Vietnam War. Ms. Hedren was awarded the Legacy of Style Award by Beauty Changes Lives in 2013 for her efforts to support and nurture the industry.
"We are proud to work with BCL and CND to bring this nail scholarship to life in our local community," said Tony Nguyen of Sunny Beauty Supply. "It is so important that we give aspiring nail professionals in Orlando the opportunity to pursue their dreams in the nail industry, and we are honored to be a part of this program in Tippi Hedren's namesake."
[Image courtesy of Beauty Changes Lives]