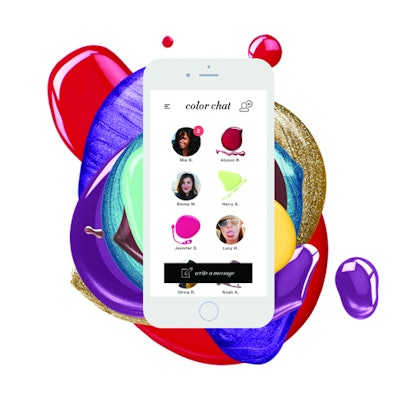 Roughly 6,500 languages are spoken globally, but today OPI introduces a universal language for nail polish colors with a new app. For the first time, the ancient dream of a common language becomes reality. The brand that has delivered groundbreaking color inspiration for over 30 years, is now introducing the first Universal Color Language through an exclusive new mobile app, OPI ColorChat™. The OPI color experts know that color is understood at a glance, transcending language and cultural barriers to bind us together in understanding.
For years, OPI has understood that Color is The Universal Language™. So in this new visual language, each letter and character is composed of colorful drops of your favorite OPI shades in distinctive shapes to form a complete alphabet. And to allow fans to become instantly fluent in this whole new way of communicating, OPI has created a new mobile app, OPI ColorChat™. Now, more than ever, OPI brings the language of color right to your fingertips with must-have nail color and an innovative new smartphone experience. "I've always believed color to be a great tool for self-expression," says Suzi Weiss-Fischmann, OPI Co-Founder and Brand Ambassador. "Now, color can be used for more than just a figurative statement, but a literal one as well. I'm excited to see how consumers will use this beautiful new language to create and communicate."
Instantly use the world's first color alphabet and powerfully express emotion through color with this innovative new way to text and talk. Download the new OPI ColorChat app to write messages, speak with friends, and share and decode messages—all in iconic OPI shades, ranging from Bubble Bath, Strawberry Margarita to Malaga Wine. "The world today is more connected than ever before. Our consumers, no matter where they live, share at least one thing in common—a love for OPI, nail lacquer, and color," explains Weiss-Fischmann. "Until now, color has always been used to share a story visually. With the launchof this beautiful new universal language and the ColorChat app, people can now speak in color."
With the new OPI color language, using drops, you make letters, with letters, you make words. With words, you can say anything you want. So, let's start speaking in color today. The ColorChat app launches worldwide on April 1, 2015. For more information, visit www.opi.com.
[Image courtesy of OPI]