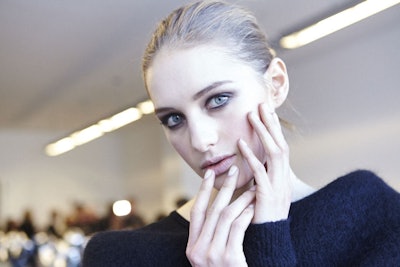 The 1940's aesthetic of Diane von Furstenberg's Fall/Winter 2015 collection was the perfect inspiration for Michelle Saunders. Using sheer polishes (Sugar Daddy and Waltz), Saunders creates a modern twist on the classic moon manicure.
What you'll need:
Essie First Base Base Coat
Essie Sugar Daddy
Essie Waltz
Essie Second Shine Around
 Get the look:
1. Apply First Base Base Coat to clean, filed nails.
2. Next, apply one coat of Sugar Daddy.
3. Then, draw a semi circle at the base of the nail with Waltz; the semi circle should cover the nail's natural base.
4. Finish with Second Shine Around.
(Use a clean up brush to clean up the outside of the moon, as needed).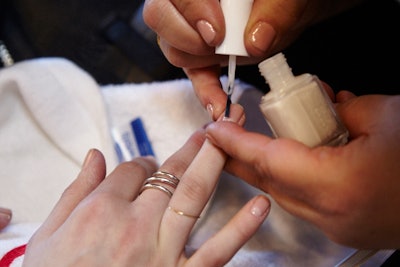 [Images: Essie]