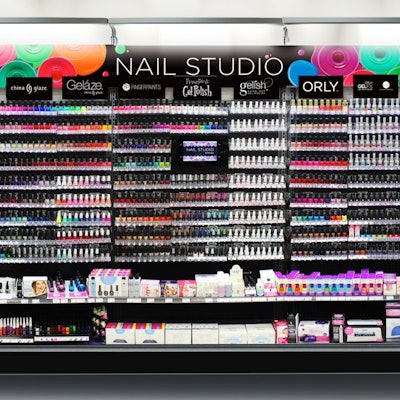 Soon, all Sally Beauty Supply stores will get a major upgrade – a 12-foot Nail Studio Wall! While their stores already had an extensive supply of nail products, the new wall will include an impressive 750+ shades of polish and gel from brands like OPI, Orly, China Glaze, Gelish, FingerPaints, Nina Ultra Pro, and ASP. But it won't stop there: the wall will also include nail art supplies (over 150 kinds) and 70+ treatments for nails, hands, and feet, plus gel polish lamps.
A digital display will show DIY possibilities with each brand and step-by-step application directions, so you will always be equipped with the latest techniques and skills!
To get the word out, Sally Beauty Supply also has their Mobile Nail Studio driving across the country! Beginning February 2015, the 24-foot truck will display a replica of the 12-foot wall with over 750 nail polishes, two professional manicurists and a DIY station for women to experience the latest nail shades and nail art from Sally Beauty Supply.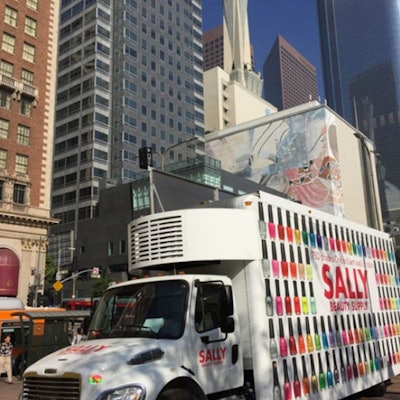 If you're in any of these areas, be sure to keep an eye out!
The truck will be at large events and venues in each of the cities below:
Los Angeles – 2/2/15 – 2/16/15
Phoenix – 2/23/15 – 3/9/15
Dallas – 3/16/15 – 3/30/15
Austin – 3/30/15 – 4/6/15
Houston – 4/6/15 – 4/13/15
Orlando – 4/20/15 – 4/27/15
Miami – 4/27/15 – 5/1/15
For more info, head over to sallybeauty.com/nailtruck.
See our Executive Editor Stephanie Lavery explain how it will work in this clip from Access Hollywood:  
Images: Sally Beauty Supply