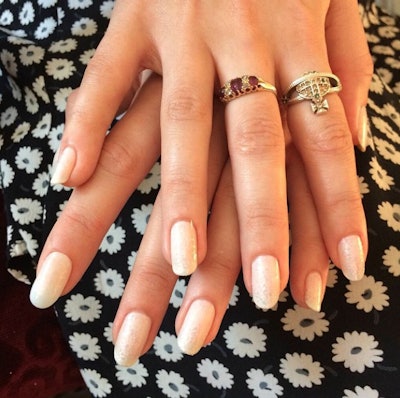 The Grammys are one of the best awards shows for beauty! Artists already accustomed to experimenting with avant garde styles come together on the red carpet to show off their best selves. Here's a few looks that caught our eye at this year's show.
Our favorite nails from this year's Grammys were those from Meghan Trainor. She went with a black sheer gown and a heart-shaped French created by artist Kimmie Kyees. Kyees explains how she got the look:
"First, I prepped Meghan's acrylic nails by filing, buffing & shaping into a point. Next, I used Red Carpet Manicure Prep, applied Red Carpet Manicure's Structure Base Gel Coat and cured in Red Carpet manicure's LED light for 30 seconds. Next, I painted a coat of Red Carpet Manicure's Candid Moments Gel Polish and cured for 45 seconds. Repeated for second coat. Then using a striper brush, I placed a small dot of Red Carpet Manicure Ruby Gel Polish to the free edge. This tip marks the center of the heart. Now play connect the dots!  Using a striper brush, pull the color up to an even arch on both sides. Then color inside the lines using Red Carpet Manicure Ruby Gel Polish, then I added super fine red loose glitter to the heart, and cured for 45 seconds. Apply Red Carpet Manicure Brilliance Top Coat, cure for 45 seconds. Remove tacky residue with Red Carpet Manicure Purify Pre & Post Application Cleanser."
Beyonce looked like a classic beauty with long, beachy waves, elegant rings, and almond nails! Lisa Logan did the star's mani using Formula X Brain Power.
Before she performed on stage with Sam Smith, Mary J. Blige got polished by manicurist Kimmie Kyees. The powerful songstress balanced out her look with the vegan SpaRitual Reminisce.
Rihanna went over the top with a voluminous pink puffy dress and matching pink nails using Orly and embellishments from Skyline Beauty Supply done by Kimmie Kyees.
We know you want to see more sparkle on celeb's nails! That's why we were excited to see some pretty, summery shimmer on the tips of Charli XCX. To get the look, Julie Kandalec used two coats of Essie Marshmallow followed with one coat Essie Luxe Effects A Cut Above.
From her hair to her talons, Lady Gaga wowed everyone in silver! Manicurist Michelle Saunders used Essie All Eyes on Nudes from the Cashmere Matte collection with a coat of Jiggle Hi, Jiggle Low over top for a "peek-a-boo platinum effect."
Grace Chatto from the Grammy award winning British electronic band Clean Bandit wore Essie All Eyes on Nudes from the Cashmere Matte collection.
Katy Perry utilized metallics in her Grammy look! The singer wore a silvery dress with a rose gold mani by Kimmie Kyees and a lavender pedicure that matched her hair.
Nominee for Best Pop Vocal Album and Performer Ariana Grander made a statement with a glitzy silver and white dress and one-of-a-kind nail color. The shade manicurist Carla Kay used on the pop star was Red Carpet Manicure Sugar Pop a hue developed especially for the singer, which won't release to the general public until summer 2015. Says Kay, "Ariana is really into pale, chalky shades right now so I worked with Red Carpet Manicure to blend an opaque pink color that would complement her skin tone. Choosing a name was easy! I was inspired by one of the biggest pop singers in the world and the color is just a perfect sugar-sweet. There you have it: Sugar Pop."
Jessie J had perfect tips painted with Essie Sand Tropez and Essie Topless and Barefoot, courtesy of Kimmie Kyees.
Cover image: @essiepolish