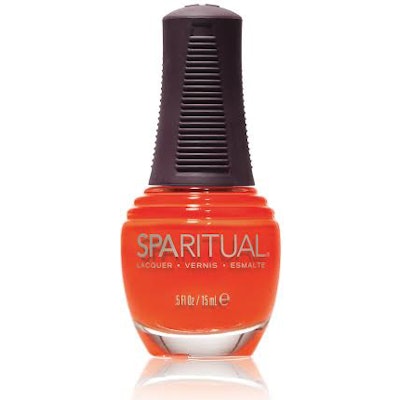 SpaRitual has partnered with an inspiring organization that helps disadvanted girls find success. Step Up, the non-profit organization, offers guidance to girls from under-resourced communities to fulfill their potential by empowering them to become confident, college-bound, career-focused and ready to join the next generation of professional women. To support Step Up's cause, SpaRitual has created a bold orange polish to help raise money. 20% of the profits from the Step Up lacquer will be donated to the non-profit. The Step Up shade captures the vibrant and empowering culture of the organization by choosing this eccentric red-orange combination that matches the brand's colors.
"As a member of Step Up myself, I am inspired by the organization's commitment to exposing these girls to what sort of career options are out there. 100% of all of the girls in this program graduate high school and go on to college. At SpaRitual, we are thrilled to celebrate and support the empowerment of young girls," says SpaRitual Founder Shel Pink.
As with all SpaRitual lacquers, Step Up is formulated without DBP, Toluene, Formaldehyde, and Formaldehyde Resin, and Camphor.
[Image courtesy of SpaRitual]