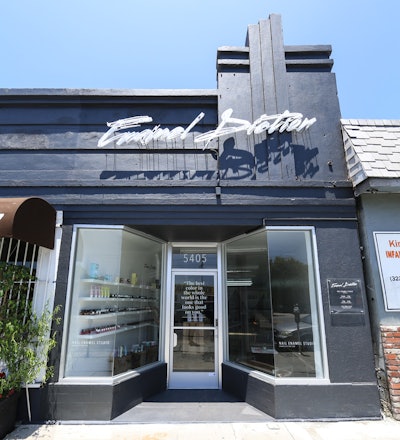 Join us at we visit Enamel Diction – the new nail salon owned by Mariana Stanciu and Tamara Sheeran that celebrities are suddenly raving about. The hot spot just opened in 2014, but here's what's already setting them apart:
DISTINCTION
Our color astrology service is what sets us apart from every other nail salon. It's based on the success of Enamel Diction, a color astrology book written by Australian design duo and color experts Tamara Sheeran and Sean Morrison that explores how we express our personalities through nail polish. Sheeran and I, Mariana Stanciu, teamed up to bring a new kind of enamel culture to the U.S. by opening Enamel Diction, the salon.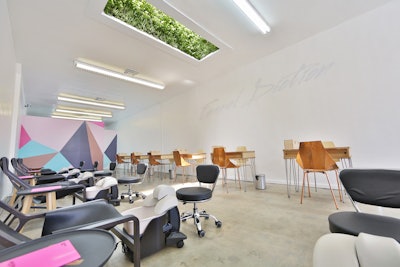 In-house astrologer Rose Theodora works in collaboration with our enamel specialists to create personalized nail designs, specific to our clients' astrological charts, to either strengthen their already existing attributes or to bring about more balance and positivity in their life, depending on the clients' goals. Our service menu comprises the latest in color consultation, as well as nail care products and solutions, deep conditioning treatments for hands and feet, hot stone massage and waxing—all housed in an environment that offers professional advice and unsurpassed customer service. Our studio is meant to inspire and be a welcoming, creative environment. We offer several different month-to-month membership packages, but you don't have to become a member to be a customer.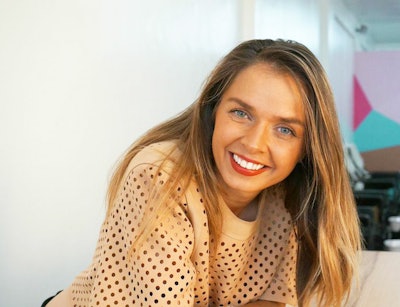 IN-DEMAND SERVICE
We specialize in customized nail art and our most popular service is our Gel Manicure with Full Set Nail Art, which starts at $65.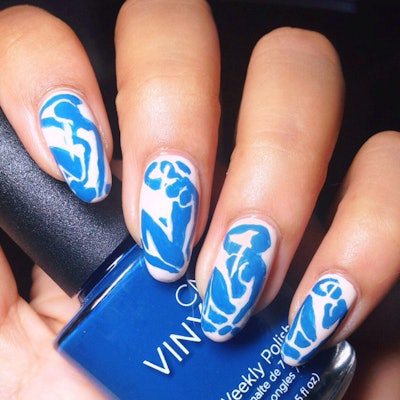 THE LOOK
The Nail Studio has a white cube gallery feel with Danish mid-century modern décor and a living garden in the skylight, which is extremely popular.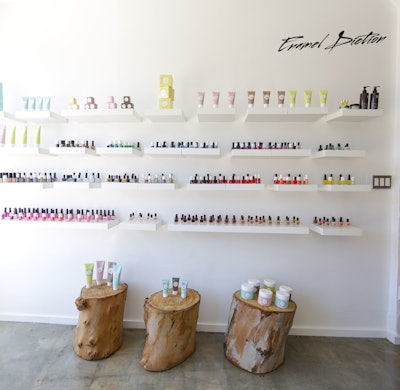 THE GOODS
We love Japanese products and use Presto Gel and uka, as well as USLU Airlines—a super hip polish brand out of Berlin—and our local RGB brand. We also offer CND Shellac and Vinylux services. On the retail side, we just launched our own color astrology inspired enamel collection, and we carry and sell Footlogix transformational foot care products as well as uka nail products.
THE CLIENTELE
Our customer base is extremely diverse. We have a large group of entertainment industry insiders, actors and actresses who live in the area and love the salon, but we also have young professionals and L.A. hipsters in their twenties as well as established career women in their thirties and forties. There are a ton of creative types in this area who are fashionable and love nail art. Around 15 percent of our clientele is male, and that's increasing by the week; they love to get their toenails colored.
SOCIAL MEDIA
We are extremely active on Instagram and post daily pictures of our nail designs. It's a great way for us to promote the amazing nail art our resident artists design for our clients, as well as our in-studio events and weekly promotions. We actively use Instagram, Facebook and Twitter to offer daily color and astrology tips for clients and followers as well.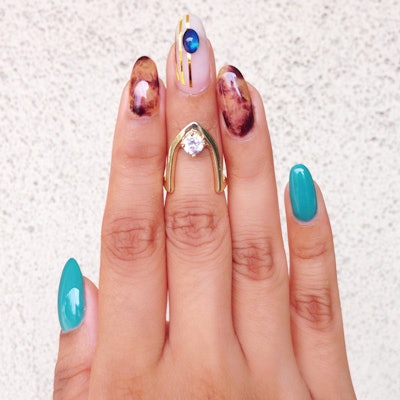 PRAISE
Clients love our nail artists and the color consultation process we take them through upon arrival. We've been reviewed as having one of the most diverse groups of nail artists around. Clients love the warm and friendly environment and are so excited to be able to engage and effectively communicate with our technicians. They also love the clean and minimal yet modern approach we've taken with the décor, and the variety of products and color selections.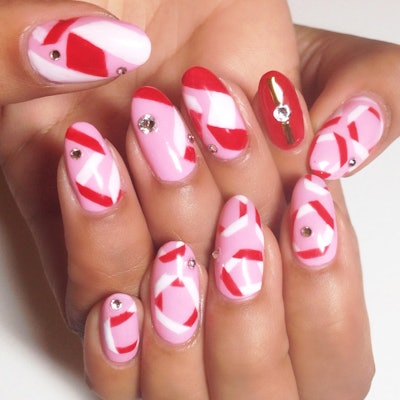 THE ADVICE
Don't focus too much on volume and pumping clients in and out of the salon. Offer clients a unique experience and engage with them as much as possible. They really love it when we hold their hands through the process and educate them on the products and services.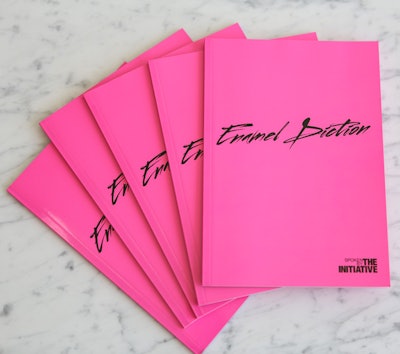 Owners: Mariana Stanciu and Tamara Sheeran
Year Opened: 2014
Address: 5405 West Pico Boulevard., Los Angeles, CA 90019
Phone Number: 323.900.0355
Hours of Operation: Tues.-Thurs., 12 p.m.-9 p.m.; Fri., 11 a.m.-9 p.m.; Sat.-Sun., 10 a.m.-7 p.m.; closed Mon.
Website: enameldiction.com
[Images courtesy of Enamel Diction]