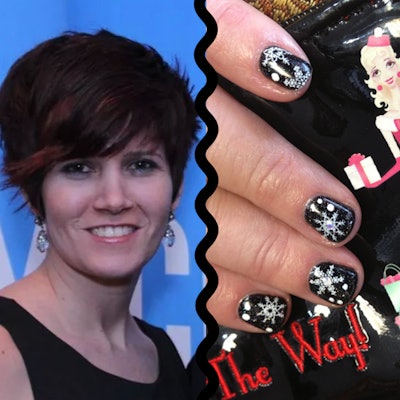 Welcome to NAILPRO's Nailed Down! where we "nail down" nail artists and technicians from our User Galleries and get to know them and their amazing work!
This week we visit Diamond, Illinois!
Meet Mary Ann Glagola:
Where do you work?
Naked Sun Salon & Spa. Yes, my mother Jodi Dennison and I own our two salons together. I wouldn't have any other partner.
How would you describe yourself?
I married the love of my life; we have 2 wonderful children and 3 dogs. I am a Christian, family-orientated person and a workaholic. I am lucky enough to work side by side with my mother/best friend everyday. I have been a nail artist for the past 13 years and never stop working.
How did you get started in the nail industry?
When my mom and I opened our tanning salon back on 2001, I was working full time in an auditing firm and my mom was working full time at a bank. I left my job to open our tanning salon and my mom left her job so I could go to school. We hired a massage therapist and wanted to bring in nails. Since I was younger than her it would be me from the two of us that would go to nail school. We opened our second location a year ago. Now I am extremely thankful I did because being a nail technician is not only job – it's my dream job. Not many can say they truly love what they do everyday.
What/Who inspires your work?
Greg from Young Nails, he inspires me to challenge myself everyday. Everyone needs to meet him and watch his YouTube videos.
Are there any tools you can't live without?
Glitter!
What is your favorite technique/style?
My favorite technique is using custom mixing acrylic and applying a faded French (with glitter, of course!)
What's the funniest thing that's happened in your salon?
My funniest story is when I was custom mixing acrylics one day and while putting my glitters away I dropped my containers all over the floor, and looked down to see the best mix of colors I made all day! Oh, and I know what you're thinking now; no I didn't use it off the floor.
Do you have a favorite stor y about your salon?
My favorite story is about my very first client. I had a client kept calling the salon to see when I graduated.  She came in with extremely long nails, I had asked her to please find another salon because I didn't feel trained enough to work on her. So she told me she has been waiting for me to graduate so I could practice on her. She sat there patiently while it took me two and a half hours. Thirteen years later, I still have the pleasure of working on my very first client. Thank god it no longer takes me that long. Not many techs can say they still have their very first client. Thank you Laura Esparza for sticking with me all these years!
What tip can you offer other nail technicians?
I would like to tell other nail technicians to never give up. Work hard and you are never too old to learn. Also please take constructive criticism. There is always someone that can teach you something to perfect your skill. Finally – never let anyone tell you your expectations are too high; there is nothing wrong with wanting the best for yourself.
You can find Mary Ann Glagola on the web:
In the NAILPRO User Gallery: Confetti & Glitter, Chipfree over Acrylics By Mary, Creative Custom Nails, Christmas in the Country
See Naked Sun Salon & Spa's site: nakedsun.net
See Naked Sun Salon & Spa's Twitter: @nakedsunspa
See Naked Sun Salon & Spa's Instagram: @nakedsunsalon
Click here for more Nailed Down! interviews »
Would you like to be featured in NAILED DOWN? Post images of your nail art to our User Gallery. We'll be highlighting outstanding artists based on those submissions! (minimum six pictures to qualify for consideration) NAILPRO reserves the right to edit submissions for length, grammar and clarity.