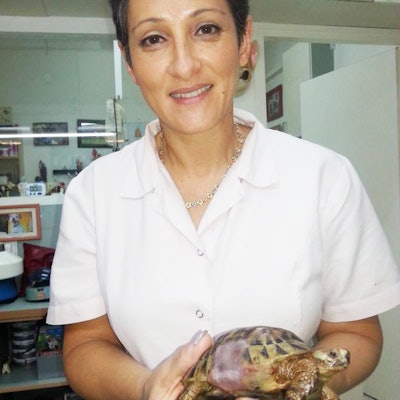 Your toolkit isn't just for primping and painting! Shiri Keinan owner of Shiri Nails and Beauty Salon in Israel used her 15 years of professional nail experience to save a turtle's life using NSI Attraction acrylic.
It all started when Shiri received an urgent phone call from her local veterinarian Dr. Ziv Dikman. Dr. Dikman explained that a 12-year-old turtle had been run over by a car and its shell was badly crushed in several places. "Dr. Dikman knew I deal with all kinds of glues and acrylics and brilliantly thought that I might be helpful saving the turtle," Shiri explains. At first she offered the vet nail glue to help repair the broken portions of shell but then she thought, "why not try NSI Acrylic? I remember reading an article about a nail technician who once helped a parrot with repairing his broken beak using acrylics." Shiri took her NSI Attraction acrylic liquid and powder, a brush and nail forms, and headed over to the vet.
When Shiri arrived at Dr. Dikman's practice, the sight was heartbreaking. The small turtle had a large piece of shell completely missing and you could see its lung. Shiri immediately jumped into action. She couldn't use nail primer because of the danger to the turtle's exposed organ, so she built an acrylic patch on a nail form to cover the area missing the shell. "I didn't wait for full drying, so I was able to bend it to the right angle," she explained. Shiri attached the acrylic patch to the turtle shell using glue and fast-drying spray. She then filled in all the other cracks on the shell and belly with acrylic.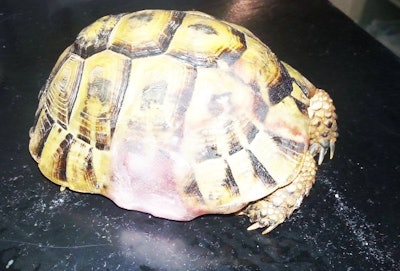 In total Shiri and Dr. Dikman worked on the turtle for 45 minutes. "The whole time I was thinking how my mom would be proud now that I was finally able to fulfill my childhood dream to become a vet," Shiri said. "This is a real life Ninja Turtle, I think he now has the best shield in the world!"
The turtle was given antibiotics and a day later was doing much better. Shiri hopes with her help, the turtle will make a full recovery.
Images: Shiri Keinan/NSI