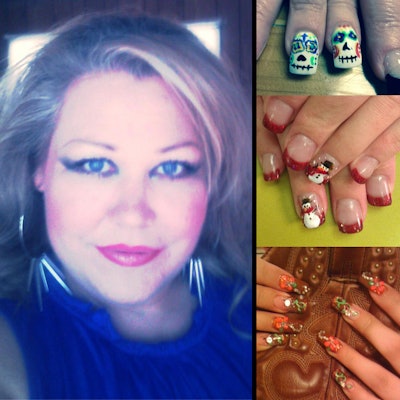 Welcome to NAILPRO's Nailed Down! where we "nail down" nail artists and technicians from our User Galleries and get to know them and their amazing work!
This week we visit Roswell, New Mexico!
Meet Teri Rodriguez:
Where do you work?
The New You Salon. I work for an amazing lady who is always positive and very supportive of me and my nail art.
How would you describe yourself?
Bubbly!
How did you get started in the nail industry?
I started beauty school in 1991 and of course couldn't wait for the nails course. I had to wait 8 weeks for nail class. I watched the other students and waited anxiously because I thought I was going to be a star when we got to nails! When we started making our sculptured nails it was harder than I thought and mine were terrible. My brush was a disaster and hard as a rock. I went home so discouraged. I got up the next day with a new attitude and I reminded myself that every journey begins with one step. I kept trying and watching other nail techs and trying different things until I found what works for me.
What/Who inspires your work?
I am inspired by nature and my clients' awesome ideas. Some clients even tell me to do what I want to them! I'm also inspired by other nail artists' work.
Are there any tools you can't live without?
My favorite tool is an OPI file called The Edge. It's my fave! 
What is your favorite technique/style?
When doing pink and whites, I really like to put the pink ball first on the nail bed and press with the belly of the brush; it makes your smile line for you. Then apply white to free edge and you will see how it becomes a perfect smile line that you can then coat in clear acrylic.
What tip can you offer other nail technicians?
My advice for other nail artists is to keep on trying and keep learning new techniques. You can do it!!! 
You can find Teri Rodriguez on the web:
In the NAILPRO User Gallery:
Would you like to be featured in NAILED DOWN? Post images of your nail art to our User Gallery. We'll be highlighting outstanding artists based on those submissions! (minimum six pictures to qualify for consideration) NAILPRO reserves the right to edit submissions for length, grammar and clarity.