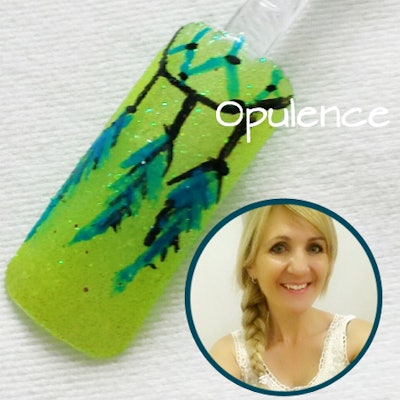 Welcome to NAILPRO's Nailed Down! where we "nail down" nail artists and technicians from our User Galleries and get to know them and their amazing work!
This week we visit Eastbourne in the UK's East Sussex!
Meet Michaela Sayers:
Where do you work?
Opulence salon. I am a nail artist who specializes in gel polish over natural nails.
How would you describe yourself?
I am a mum of three teenage children I am proud of who keep me on my toes. I am driven, creative, and full of life. I keep myself busy! I love doing nails and meeting new clients who then become good friends.
How did you get started in the nail industry?
I used to get mine done a lot using acrylics and started to get interested in doing my own set of nails with gel polish. I bought items for me to start doing my own and saw amazing effects, so my family then asked for me to theirs, and it's grown from there! I am very artistic (I used to be a mural artist) and decided to start nail artistry. I love how I can put two of my interests into one!
What/Who inspires your work?
Instagram and Pinterest have been great and I love looking at fabrics, fashion for more ideas.
Are there any tools you can't live without?
Good lighting helps create the perfect nail polish and art, along with fine detailed brushes.
What is your favorite technique/style?
I paint with gel polish and acrylic paints. I get asked a lot for Cath Kidston inspired nails along with anything the client has asked me to try. I do love a challenge!
What is your funniest/craziest nail story?
I have lots of fun and meet some great people. There was one time at a clients house, well…their pet dog decided he liked me a little too much!! Couldn't help but laugh.
What tip can you offer other nail technicians?
If you put your passion into it and listen to clients you will do well! You never stop learning and creating new things.
You can find Ivonne Retz on the web:
In the NAILPRO User Gallery: Flower Power, Feathers, and Animals.
Opulence Salon on Facebook: facebook.com/opulancenails
Click here for more Nailed Down! interviews »
Would you like to be featured in NAILED DOWN? Post images of your nail art to our User Gallery. We'll be highlighting outstanding artists based on those submissions! (minimum six pictures to qualify for consideration) NAILPRO reserves the right to edit submissions for length, grammar and clarity.