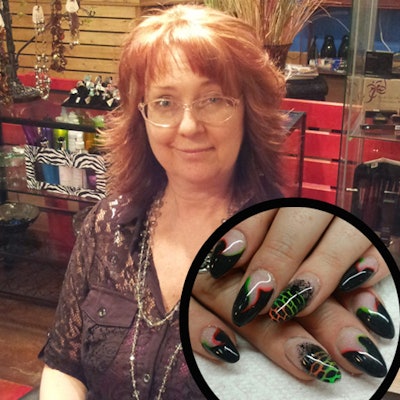 Welcome to NAILPRO's Nailed Down! where we "nail down" nail artists and technicians from our User Galleries and get to know them and their amazing work!
This week we visit Williston, North Dakota!
Meet Candace Panner:
Where do you work?
My corporation is called Glitter Revolution, located inside Hair Safari Salon.
What/Who inspires your work?
Glitter has always been my favorite color, and my clients inspire me every day to create nails for them that are an expression of the inner divas we all possess
What is your favorite technique/style?
I sculpt each set I create, with forms so that I have complete control over the structure of the nail, and I can accentuate or camouflage my clients nail beds as needed.
What is your funniest/craziest nail story?
Many of my clients have never had sculpted nails before, and it is fun to see their reactions to this method, especially when I incorporate the reverse bead method. One of my clients exclaimed, "Oh! you make them homemade all by yourself!"
What tip can you offer other nail technicians?
My clients often just choose colors and enjoy the creative process and endless options as much as I do, not knowing until the final shiny top coat what they will be wearing each time. If you listen carefully to your clients, it is easy to discern their personal style and delight them with a sense of adventure and surprise.
You can find Candace Panner on the web:
In the NAILPRO User Gallery: Glitter Revolution
Website: hairsafari.co/gallery/glitter-revolution
Facebook: https://www.facebook.com/hairsafari1

Click here for more Nailed Down! interviews »
Would you like to be featured in NAILED DOWN? Post images of your nail art to our User Gallery. We'll be highlighting outstanding artists based on those submissions! (minimum six pictures to qualify for consideration) NAILPRO reserves the right to edit submissions for length, grammar and clarity.