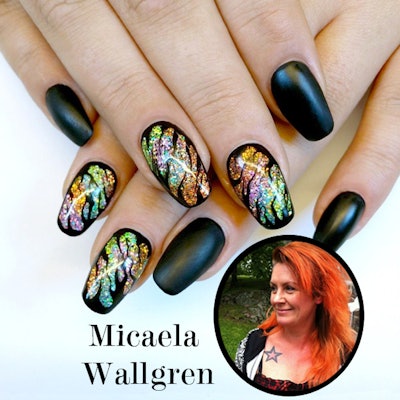 Welcome to NAILPRO's Nailed Down! where we "nail down" nail artists and technicians from our User Galleries and get to know them and their amazing work!
This week we visit Hallstavik, a tiny town in Sweden with only 4000 people!
Meet Micaela Wallgren:
Where do you work?
I own my salon, Svea Naglar.
How would you describe yourself?
A mother of four with a ton of patience. I'm always trying to to reach for the next level and currently I'm getting into competitions. I always have 100 things going at the same time: competitions, customers, the kids, fighting for a skate park, fairs, classes…
How did you get started in the nail industry?
I wanted to do my nails for a party and ended up walking out angry and disapointed. The tech was 30 minutes late. To start, she didn't say hello when she showed up. Another 20 minutes goes by before she is even set up and ready to do manicures. I told her I wanted longer nails with a French manicure. She snapped at me and said "I don't have time to do extensions. And a French is f*cking boring." I am often pretty straightforward with people, but even I was in shock! It ended with a purple/red glitter – and the price was sky high.
I finished the evening thinking… I can do this a hell of a lot better! And two days later the nails chipped off. Bad attitude, bad service, bad quality.
What/Who inspires your work?
I get inspired by a lot of techs, mostly from Instagram. For competitions, my mentor, Madelene Wolf, inspires me.
Are there any tools you can't live without?
My customers 😉 And my nail art brush.
What is your favorite technique/style?
My favorite style is stiletto with abstract lines and bright colors.I'm all in with the art!
What is your funniest/craziest nail story?
Fun story! When Nailpro had commented my picture on Instagram, for the first time. They asked if they could share the picture and asked if I could create a tutorial for it. I tought it was spam! I just didn't believe then that someone was interested in an little Swedish tech.
What tip can you offer other nail technicians?
Your pictures are everything. They are your own PR/advertising. Also – DO NOT DROWN THE FINGERS IN NAIL OIL!
You can find Micaela Wallgren on the web:
Check out her tutorials for Nailpro: Micaela Wallgren's how tos
In the NAILPRO User Gallery: nailpro.com/nail-art-150
Website: sveanaglar.se
Facebook: facebook.se/sveanaglar
Instagram: @sveanaglar
Click here for more Nailed Down! interviews »
Would you like to be featured in NAILED DOWN? Post images of your nail art to our User Gallery. We'll be highlighting outstanding artists based on those submissions! (minimum six pictures to qualify for consideration) NAILPRO reserves the right to edit submissions for length, grammar and clarity.