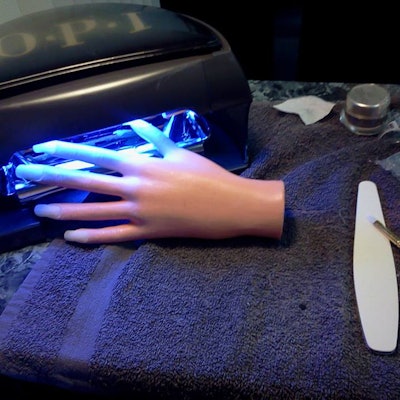 Follow Amie Pollard, nail school student and recipient of the Beauty Changes Lives|CND|Tippi Hedren Scholarship, through her days of school!
September 24, 2014
Hello there, nail world! So in my last post, I said that nail wraps were coming next week (this post) but I was wrong! We actually did gel nails in week 11. The last couple of weeks have been so hectic coming down to the wire that I got mixed up! 
So, our school uses OPI products and the Axxium gel product line. This was my first time attempting to do a gel nail, so I was a bit intimidated at first. It was more difficult than I thought but it wasn't too horrible. My nails came out a bit thick and bumpy when they cured but after filing and buffing they weren't too bad!
Prior to coming to school I knew very little about gel nails. I had watched several videos online and, boy, do they make it look easy! For anyone who is unfamiliar with gels, here is a bit of information. First, gel nails have to be cured under a light to harden, because unlike acrylics they do not "polymerize" on their own. Polymerization, which we learned about in our chemistry chapter, is the hardening of nail enhancements, generally when speaking of acrylics. Another point about gels is that unlike acrylics, you cannot soak them off. This is because of their highly cross-linked polymers. This just means that the molecules are connected in such a way that it's like a really strong web, rather than a single strand. Because hard gels cannot be soaked off, they are a good choice for people who want nail enhancements, but may be rough on their hands or be exposed to harsh chemicals on a regular basis. The only way to get the gel nails off is to file them off, which has to be done carefully so that you don't over file and harm the natural nail.
Our chapter for the week, actually the last chapter in our book was Chapter 10, Specialty Nail Services. Just like chapters 8 and 9, this was basically a review. This chapter discusses services such as a spa manicure or pedicure with the use of a high quality scrub and/or mask, and other services like nail art.
We read through the chapter on Tuesday night and tested out on Wednesday (100! only 2 more written tests). We had clinic Thursday night where we continued to work on our requirements, which there isn't many left! I worked on my pedicures and got in some foot reflexology practice. We will soon be practice packing for state boards and taking our mock board test! I can't believe it! See you next week! -Amie
See all The Nail School Diaries
[Images: Amie Pollard]