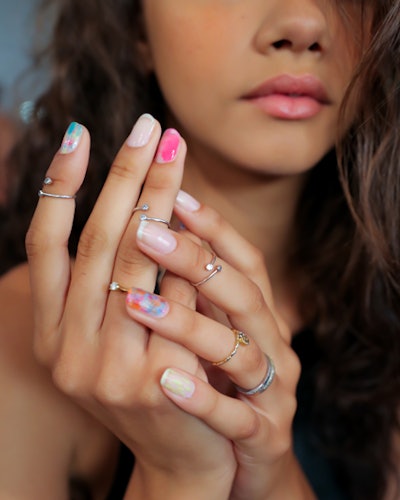 OPI partnered with Jeremy Scott to create a unique nail look for the designer's Mercedes-Benz Fashion Week, for the Spring/Summer 2015 runway show at Milk Studios on Wednesday, September 10. Lead nail artist, Miss Pop, worked with the designer's beachy, hippie inspiration to create colorful patterned nails that accented the collection's vibrant prints.
That's Hot! Pink, Life Gave Me Lemons, Can't Find My Czechbook, Juice Bar Hopping, and A Grape Fit! were applied to models' nails randomly using a dry brush technique. Miss Pop used the technique of individual brush strokes with little lacquer applied one after the other until the nail was filled to achieve a look of playing with paint on the nail.
Every model's hand featured a different set of designs, mixing multicolor nails and individual bright hues partially or fully painted on with the airbrush-like technique, while some nails, were left in the New Nude – Matte Top Coat.
New to the runways, the playful nail art was carried through to the male models. Several of the male models also featured one of more of the bright, paint-inspired nails. "The next step for polish is getting it on men, including nail art," says Miss Pop, lead nail artist for OPI at Fashion Week. "I am happy Jeremy Scott is taking this first step. There are no rules with this look. The colors are the palette and the nails the canvas." Nails were prepped with one coat of Base Coat and finished with Matte Top Coat.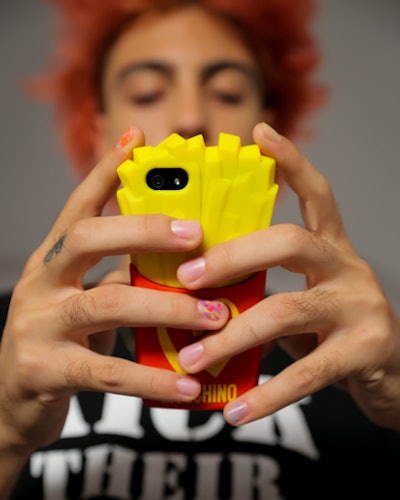 [Images: OPI]