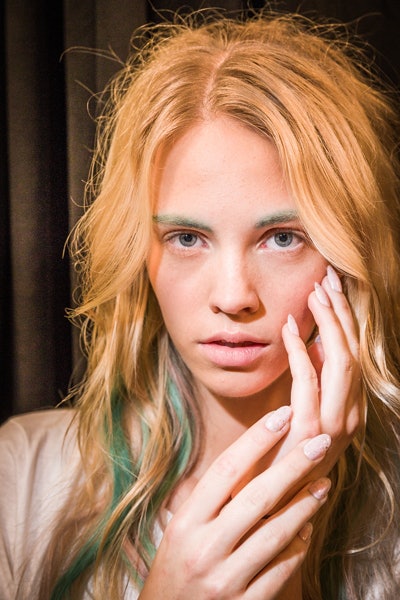 To compliment the Spring Collection for 2015 by Badgley Mischka, lead manicurist, Deborah Lippman created a design that was both defiant and feminine. Lippmann says, "Badgley Mischka's Spring/Summer 2015 collection is defined by rebellious luxury. She's the uptown Park Avenue girl who pushes her mother's buttons…a virtual modern day Marie Antoinette who ventures out in the East Village. Hints of promiscuity and defiance appear through the wisp of soft pastels woven into slept in, textured hair, and the light, fresh beautiful skin featuring veils of sheer pastel on the brows. No pastel combination appears the same with any model, a detail I wanted to carry through with the nails, so I used 4 different lacquer shades from my upcoming Spring and Barneys New York Collections and aptly added Gold Digger on top, my most expensive nail lacquer to date featuring real 24-carat gold flakes." 
Get the Look:
Step 1: To prep the nail plate, Deborah exfoliated the cuticle with Cuticle Remover and cleansed the nails with 2-Second Nail Primer. 
Step 2: For the base, she applied a coat of Gel Lab Base Coat and allowed 2 minutes of drying time prior to lacquer application. 
Step 3: Deborah then applied two coats from one of the following four new nail lacquer shades including: Chantilly Lace, Misty Morning, or Like Dreamers Do (All Spring 2015 Previews), and Magic Is The Moonlight (Barneys New York Exclusive)
Step 4: A layer of Gold Digger (Barneys New York Exclusive) nail glitter was applied on top to accent the nails. 
Step 5: After 2 minutes of dry time, Gel Lab Top Coat was applied to give the look a high-gloss finish.  
Step 6: For added hydration, The Cure and Rich Girl SPF 25 Hand Cream were applied to the cuticles and hands, respectively. 
[Photo Credit: Mark Schafer for Deborah Lippmann]