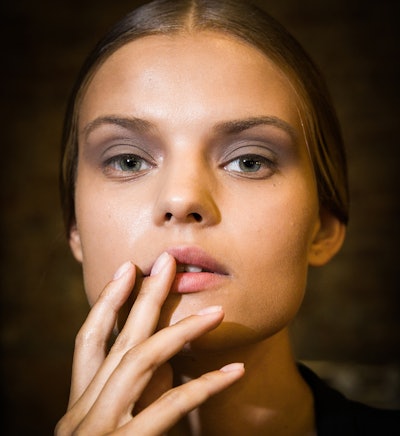 Donna Karan's Spring/Summer 2015 collection was full of bright, graphic colors. To complement the look, lead manicurist Deborah Lippmann created a soft, matte, grey nail. Says Lippmann, "Giving a nod to the natural and monochromatic soft grey eyelid that was created by Charlotte Tilbury, I fashioned a sheer grey veil on the nail. I chose to overlay it with a matte topcoat to add a bit of texture. The modern finish pairs nicely with the graphic colors from her Spring/Summer 2015 collection."
How to get the look:
1. To prep the nail plate, Deborah exfoliated the cuticle with Cuticle Remover and cleansed the nails with 2-Second Nail Primer.
2. For the base, Deborah applied a coat of Gel Lab Base Coat and allowed 2 minutes of drying time prior to lacquer application.
3. Deborah then applied two coats of the NEW nail lacquer shade, Like Dreamers Do, a pale bisque, waiting 2 minutes between coats.
4. After 2 minutes of dry time, Flat Top was applied to give the look a matte finish.  
5. For added hydration, The Cure and Rich Girl SPF 25 Hand Cream were applied to the cuticles and hands, respectively.
[Image courtesy of Deborah Lippmann]