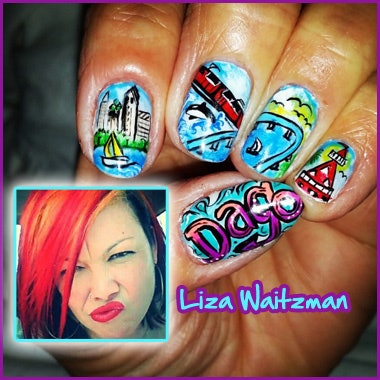 Welcome to NAILPRO's Nailed Down! where we "nail down" nail artists and technicians from our User Galleries and get to know them and their amazing work!
This week we visit San Diego, CA!
Meet Liza Waitzman:
Where do you work?
Beauty Forever, Spring Valley, CA.
How would you describe yourself?
Witty, energetic and a damn good time… lol
How did you get started in the nail industry?
I practically grew up in the salon so being a nail tech was something (I suppose) I gravitated to at one point. I recently discovered my passion for nail art over the last few years and have really embraced it. I can't get enough of it now and love when my clients come to me with an idea and let me "run with it"!
What/Who inspires your work?
Everything, you name it. There is inspiration from everything on a daily basis. Whether it be a cool image in a magazine, a beautiful sunset or some dope nail art I come across from a fellow artist. I appreciate it all and try to recreate/reinvent things in my own perspective.
Are there any tools you can't live without?
My itty bitty, teeny weeny paint brushs!!!!
What is your favorite technique/style?
Hmmm… I have no idea. I suppose I just roll with the punches? I prefer most of my work to be all hand painted and I take pride in that so… my hand painted work.
What is your funniest/craziest nail story?
I have to pick only one? Every day with my clients is a rollercoaster of laughs! Sometimes I wish we had a hidden camera, it'd make for great reality TV! Hahaha! I'm pretty damn funny.
What tip can you offer other nail technicians?
Take chances, don't over think things and be confident. We're our own worst critics. Just be your best.
Anything else you'd like to add?
Don't ever give up on yourself. Life is full of challenges, but it makes for awesome nail techs, and whatever else it is that you strive to be.
You can find Liza Waitzman on the web:
In the NAILPRO User Gallery: #NailArt
Facebook: Toes on the Goes
Instagram: toesonthegoes#
Pinterest: Toes On The Goes
Click here for more Nailed Down! interviews »
Would you like to be featured in NAILED DOWN? Post images of your nail art to our User Gallery. We'll be highlighting outstanding artists based on those submissions! (minimum six pictures to qualify for consideration) NAILPRO reserves the right to edit submissions for length, grammar and clarity.