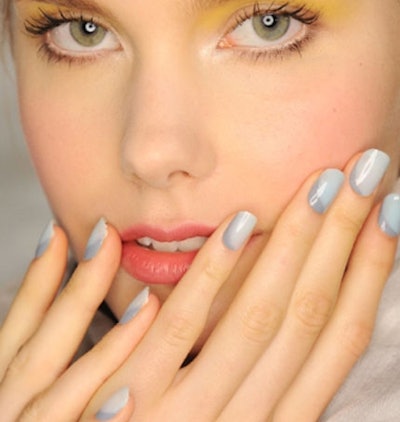 At this year's New York Fashion Week, Morgan Taylor went backstage at several shows to create gorgeous nail looks, focusing on the season's hottest trends, including dual-finish matte & glossy nails, translucent tints, and understated looks. See the looks from the Chris Gelinas, Sally LaPointe, Carmen Marc Valvo, and Monique Lhuilier runways below.
??CG Chris Gelinas, Nails by Gina Edwards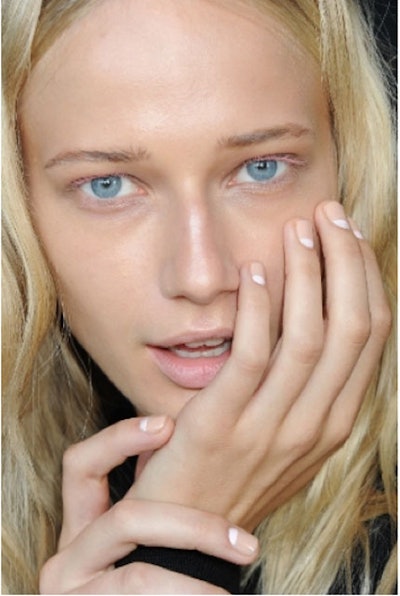 Manicures motivated by this rising star's graphic individuality created interest with contrasting texture and understated colors. Manicurist Gina Edwards created a matte pastel pink using I'm Charmed and Mattes A Wrap Top Coat at the top third of the nail. She finished with a crisp horizontal line before contrasting to classic glossy beige in New School Nude. The abstract makeup similarly juxtaposed white brows with pink lashes to illustrate a break from conformity.??
Sally LaPointe, Nails by Danielle Candido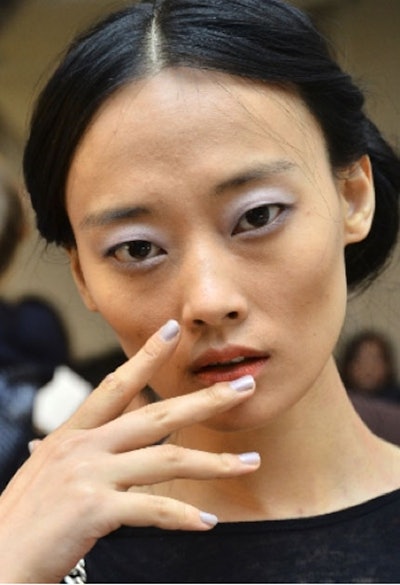 The nails at Sally LaPointe were an understated, youthful, foggy pigment to complement the designer's "less-is-more" inspiration. The matte, dusty lavender nail was created by custom mixing Morgan Taylor iridescent purple Something To Blog About with gray shimmer Scene Queen finished with Mattes A Wrap top coat.??
Carmen Marc Valvo, Nails by Gina Edwards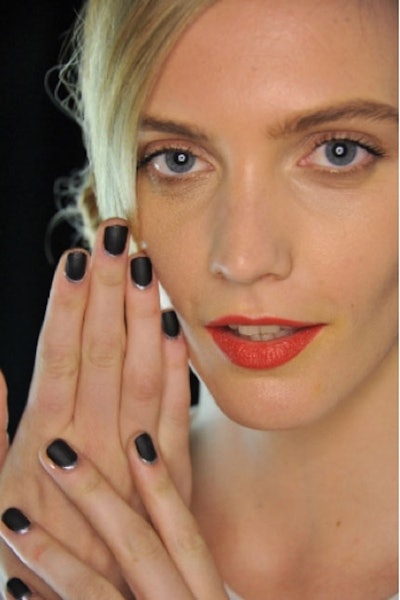 Celebrating the designer's silver anniversary, Gina Edwards created a sophisticated dual-finish black and silver manicure using Little Black Dress muted by Mattes A Wrap top coat. She then edged the cuticle line with Oh Snap, It's Silver, an iridescent silver. A slice of silvery grey also swept through a piece of the hair to a sexy side bun giving an overall look of modern sophistication.??
Monique Lhuillier, Nails by Gina Edwards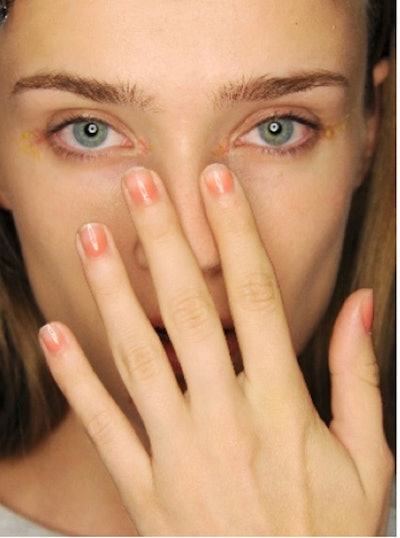 The manicure at Monique Lhuillier was a triumph — elegant and feminine. A custom mix of Morgan Taylor's coral creme Color Me Bold and light mauve cream Coming up Roses was applied at the very base of the nail. The color burst morphed from saturated to high gloss clear at the tip. Gina Edwards was inspired by the gorgeous thick, clear Lucite heels featured in the show and Lhuillier's own inspiration of the pastels illuminating the sky just before sunrise.
THAKOON, Nails by Gina Edwards?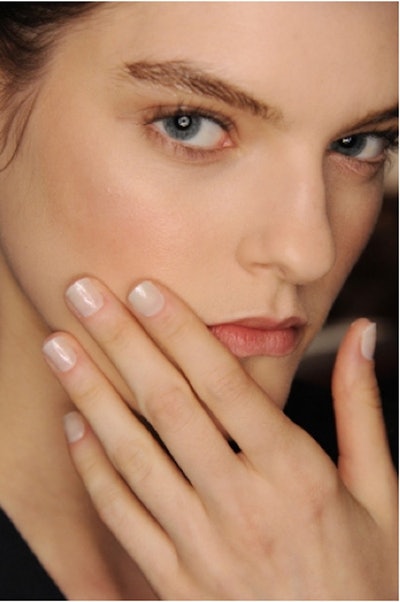 A glistening, prismatic nail look was created by lead manicurist Gina Edwards at Thakoon, whose S/S 2015 show was a true island experience. Edwards applied one coat of Morgan Taylor in Sugar Fix, a sheer pink shimmer, two coats of Make It Last and one coat of Need For Speed top coats to models' hands for a high-gloss, dewy finish that perfectly complemented the overall fresh-out-of-the-pool beauty esthetic. For pedicures, Edwards used In The Nude, a sheer beige hue with pink undertones, to complete the look.
 
Angel Sanchez, Nails by Gina Edwards for Morgan Taylor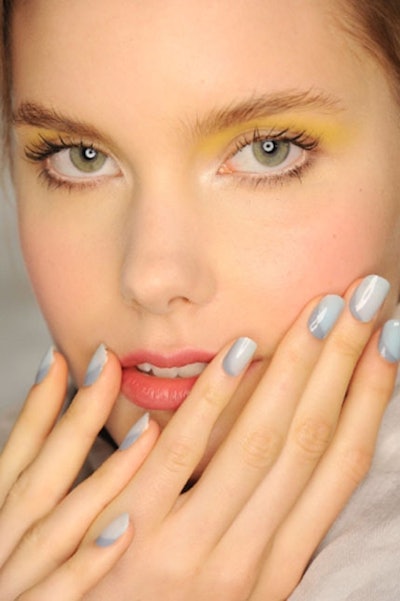 Morgan Taylor's lead manicurist, Gina Edwards created a captivating geometric blue nail for Angel Shanchez's Spring/Summer 2015 runway. A custom blended pale aquamarine composed of Morgan Taylor in Varsity Jacket Blues and Make It Last clear top coat was applied as the base and was topped with a cuticle-hugging, asymmetrical swoosh in Morgan Taylor Who-Dini, a gray blue crème, that transitioned to the outside edge of the nail. The look was given a high-shine finish with Morgan Taylor in Need For Speed. The transitional manicure complemented Sanchez's perfectly juxtaposed collection of soft, feminine fabrics cut in hard lines and geometric shapes.??
Zero + Maria Cornejo, Nails by Gina Edwards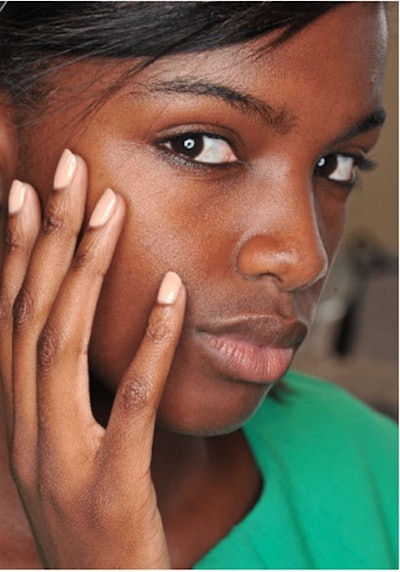 It was all about classic nude at Zero + Maria Cornejo's spring 2015 runway collection. Lead manicurist Gina Edwards kept it clean with two coats of Morgan Taylor in New School Nude, a universal nude hue with pink undertones. The shade was applied to both fingers and toes and coordinated perfectly with the solid palette of Cornejo's European romance-inspired collection. The look was finished with Morgan Taylor Need For Speed, a fast-drying topcoat.??
[Images courtesy of Morgan Taylor Lacquer]