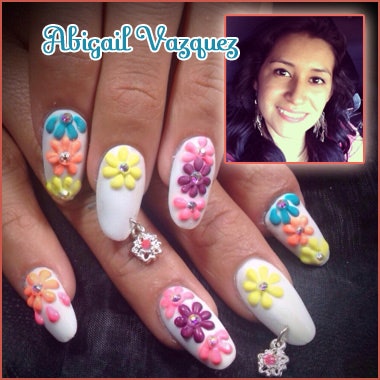 Welcome to NAILPRO's Nailed Down! where we "nail down" nail artists and technicians from our User Galleries and get to know them and their amazing work!
This week we visit Phoenix, Arizona!
Meet Abigail Vazquez:
How would you describe yourself?
I'm a very creative, optimistic, happy, and outgoing person. I love to work with people and to be around my family and friends.
How did you get started in the nail industry?
Since I was a little girl I was very artistic. I always liked colors, paint, designs, always excited creating new things. It was not until my nail tech moved to another state that I struggled to find a good nail tech. I never found someone like her. At least, not in my state. I was very frustrated, but I was determined to learn how to do my own nails. I never thought that God had already something planned for me. Now, I find myself in love with what I do. The world stops doing what I love and I become passionate about creating a unique design for each client.
What/Who inspires your work?
I get inspired by everything around me, pretty much. I love going to the mall and visiting stores and getting inspired by what is out there. Fashion magazines, home decorations, art, etc. But, who really inspires my work is my beautiful clients. I wanna have fresh and new ideas for them every visit.
Are there any tools you can't live without?
My electric file! It just makes everything faster and easier!
What is your favorite technique/style?
I'm a stiletto lover! It's easy to do anything with them. They feel like feathers, as if I have no nails on at all. LOL!
What tip can you offer other nail technicians?
Be authentic, always be humble, and love yourself. Know your strengths and your weaknesses. Be proud of your strengths and work on your weaknesses with enthusiasm. Never be afraid to take risks. The last thing, never stop learning. Invest in your future. Take classes and learn from other nail techs as well.
Anything else you'd like to add?
Being part of the nail industry has been one of the best decisions in my life!
You can find Abigail Vazquez on the web:
In the NAILPRO User Gallery:
Pinterest: Nails by Abigail
Click here for more Nailed Down! interviews »
Would you like to be featured in NAILED DOWN? Post images of your nail art to our User Gallery. We'll be highlighting outstanding artists based on those submissions! (minimum six pictures to qualify for consideration) NAILPRO reserves the right to edit submissions for length, grammar and clarity.