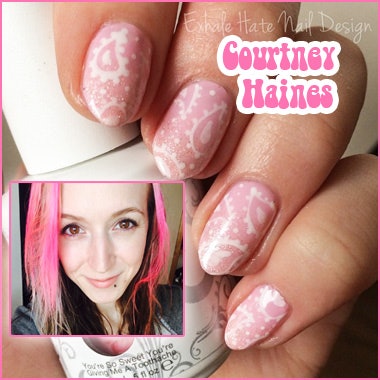 Welcome to NAILPRO's Nailed Down! where we "nail down" nail artists and technicians from our User Galleries and get to know them and their amazing work!
This week we visit Ontario, Canada!
Meet Courtney Haines:
Where do you work?
I work at the Locust Tree Day Spa in Bowmanville, Ontario, Canada. I also have a little home "spa" (Exhale Hate Nail Design & Home Spa) where I service the older ladies and gentlemen in my building that can't always get out.
How would you describe yourself?
I would mostly describe myself as a go-getter. If I want something, I go for it, and try again and again (usually through quite a few failures) to get where I want to be. Not just with nails, but everything in my life.
How did you get started in the nail industry?
I started by seeing nail art on Pinterest! I saw a leopard print design and was like, "I could so do that!" And then it became like an obsession to always have a sweet design on my nails. That lead to doing my friends' nails and people asking if I worked in a salon. Eventually I took a nail tech course. I ended up also going back for esthetics a year later, but nail art is still my main passion.
What/Who inspires your work?
Originally (after random pinterests) it was Madeline Poole. Her designs are so clean and gorgeous. Later, I joined the wonderful world of Instagram and now there are over 200 nail artists, tattoo artists, and painters that inspire me daily.
Are there any tools you can't live without?
It's a tie between my tiny art brush and my dotter. And nail polish remover. Not really a tool, but necessary for cleanups and completely starting over and over!
What is your favorite technique/style?
I really, really love the Japanese styles (not the super 3D ones though). I haven't tried it too much yet, but I just love it. For myself, I like playing around with gel polishes because there's so much you can do.
What is your craziest/funniest nail story?
One time a toe nail hit me in the mouth and I totally freaked out for a good five minutes about it. Thankfully, it was my boyfriend's mom so she was laughing with me. Now I always slightly move my head to the side when I'm cutting any nails.
What tip can you offer other nail technicians?
Don't give up! It's easy (and a total cop out) to look at some awesome nails and think "I can't do that." One man's trash is another man's treasure. I've failed at a few inspired looks, and the original artist actually gave me some tips on how to make it better. Also, cleaning up as you go is a lot easier than waiting until the end.
Anything else you'd like to add?
Don't be negative about things you don't like. Just because you think you can do better, doesn't mean that everyone else will agree with you. To each his own.
You can find Courtney Haines on the web:
In the NAILPRO User Gallery:
Click here for more Nailed Down! interviews »
Would you like to be featured in NAILED DOWN? Post images of your nail art to our User Gallery. We'll be highlighting outstanding artists based on those submissions! (minimum six pictures to qualify for consideration) NAILPRO reserves the right to edit submissions for length, grammar and clarity.