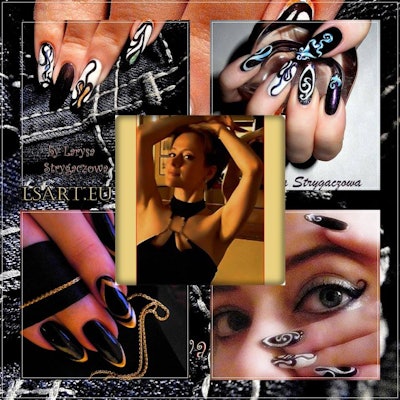 Artist Larysa Strygaczowa from Warsaw, Poland illustrates on both paper and nails – and yes, if you're wondering: those are her natural nails. She does everything herself: the manicuring, the art, and even the photography; get to know her in our Q&A below.
How long have you been doing nails?
For about 10 years. Unfortunately I didn't take many photos of my work until recently; I didn't start off taking it seriously at all.
Tell us about the other art you do.
I have been creating from my early childhood. Art isn't a part of my life, it's a lifestyle. I make draw with pastel and pencils, do photography, plus design women's tights and lingerie. A lot of my works you can see in my gallery LSart.eu, Facebook and other private galleries. In fact, I am in a very "productive" period of my life, so almost every week I am making some new art. Unfortunately we have only 24 hours a day, and I am looking for the possibilities to realize most of my ideas.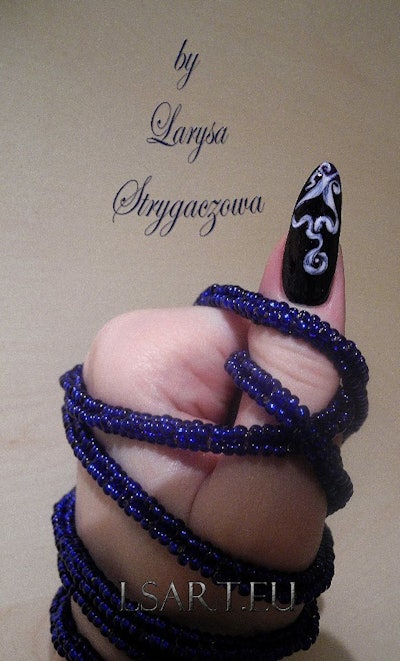 What do you find beautiful?
It's a very difficult question, it's hard to describe. I would like to say "harmony," but there are a lot of things which are beautiful in their imbalance. Artistic confusion, as they say. So "beauty" is a matter of our own taste, which we can transform [and develop] during the years.
Do you take your own pictures of nails?
Yes, all the pictures were taken myself, and I love doing it!
What is your favorite nail product to use?
You know I really appreciate Chanel nail polishes. As for my favorite product, it's probably Triple Strong Gel by Sally Hansen. It helps me to maintain the length of my nails, and it works great for me!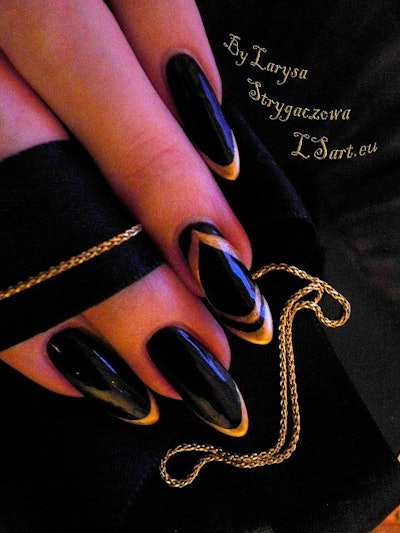 Do you ever have short nails?
Yes, more than 10 years ago… As for now it's hard to imagine how I was living without my long nails.
What inspires you?
Everything! When I find something interesting, I try to keep it in mind and the nails are born!
Find Larysa online…
Website: lsart.eu
Facebook page: facebook.com/larysa.strygaczowa
Check out interviews with more nail artists here!
[Images: Larysa Strygaczowa]