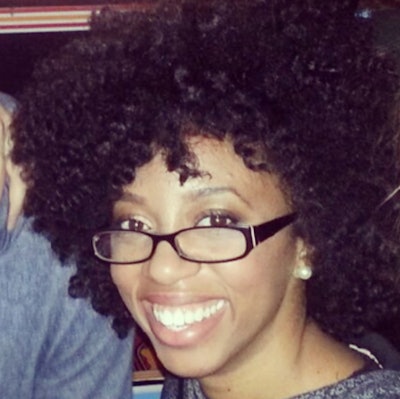 Last year, one simple post made by nail artist Mimi Wilson (@nailsbymimi) that announced August 3, 2013 was International Nail Art Day got tons of attention. Hundreds of bloggers, nail artists, and even salons reposted the picture and thousands of people shared their images for the first-ever INAD using hashtag #inad. Curious as to the girl behind the larger-than-life viral holiday, we sought out Mimi to talk to her one-on-one.
Tell us how you got the idea for INAD? Where were you at the time?
I was at home polishing my nails when I got the idea for INAD. I kept seeing all of these holidays like National French Fry Day and National Dance Day and it made me wonder why nail art didn't have a day. I decided that Nail Art Day should be celebrated internationally because there are so many talented nail artists all over the world.
 
How many people did you think would participate? How many actually did?
I had no clue about the amount of people that would participate, but I was optimistic. It's still hard to say exactly how many people celebrated, because currently it's only celebrated via social media. Since the mission behind INAD is to unite nail artists and nail art lovers, future celebrations will include events where INAD supporters can meet up and celebrate together.
Do these look familiar? These are the callouts Mimi created for INAD
When did you realize INAD was blowing up?
I realized it when I made a post asking where followers were from and France, Ecuador and India were some of the responses I received.
What does it feel like to have founded a holiday?
It's a pretty cool feeling. It's a lot of work because I do everything myself, but nail art is something that I love and just seeing how cool everyone else thinks it is makes it all worth it.

Mimi's own nails for INAD 2014, which was August 2nd
So, what's your "day job"?
I'm a professional manicurist and nail artist.  I'm blessed enough to polish nails for a living.
I bet you've had some pretty cool experiences doing that.
I was able to work during New York Fashion Week within months after earning my license. I've done cover shoots for Inked Magazine and Vogue China. I've done solo campaigns for Badgely Mischka, Armani Exchange and Prabal Gurung.
Mimi backstage at New York Fashion Week at the Wes Gordon show
Have you worked with any big names in the industry?
I worked with Lisa Logan for Cover Girl at the 2014 Super Bowl in New York City. It was an awesome experience. I missed celebrating my birthday just so I could be a part of it. That's definitely not a complaint because I would do it again.
What are some of your favorite polishes to use? 
I love using Essie, RGB, Diosa, and Cirque Colors
What tips do you have for nail artists? 
My favorite tips to share are:
1. Always make sure the cuticle line is free from polish before posting to social media.
2. My favorite item to keep cuticles hydrated is coconut oil.
3. Be honest with your clients.
What do you hope to see happen on the next INAD?
I want the holiday to spread globally. The mission of International Nail Art Day is to unite nail artists and nail art lovers around the world. I hope to see photographs of nail artists celebrating with other nail artists, group photos of nail salon employees, little kids polishing their nails. I just want to see everyone enjoying themselves and celebrating how nail art is something that joins us all together.
What will people find on your personal account – @nailsbymimi?
Other than nails, followers will find product reviews, polish collections that I've curated and little snippets of my life like food, my dog and various things that I'm experiencing in life.
Where can people find you for a manicure?
I can be reached at [email protected] to set up appointments.
For updates on INAD, follow @intnailartday. Next year's INAD won't be until the first Saturday of August, but Mimi has contests and news year-round.
[Images: Mimi Wilson]