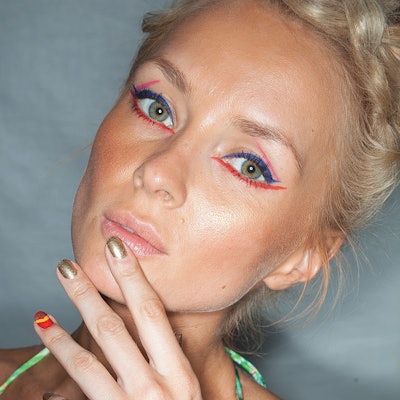 Zoya showed off sizzling-hot designs using some of their top polishes at Mercedes Benz Miami Swim Week. Check out some of the highlights as inspiration for chic styles of your own:
 
For Frankie's Bikinis, manicurist Naomi Gonzalez–Longstaff did a sparkling white nail inspired by the Miami sunshine that feels right at home on a yacht. She applied Zoya Purity to the whole nail and Tomoko on the tips.
 
For the Wildfox presentation, Gonzalez paired up both black and nude for a design "that is great as a day to evening look." She used Zoya Raven and Chantal.
 
For the We are Handsome presentation, Zoya gave models a gold manicure with a neon accent nail that matched the makeup. The colors used were Zoya Darcy, Ziv, and Rocha.
 
For Lolli Swim & Acacia, Zoya did a flirty nude manicure. To create it, layer Zoya Rue with Taylor at the tip.
 
For Suboo, Zoya went with a fresh, white nail style: "There's nothing subtle about the stylish combo of Suboo swimwear and Zoya nails painted in pure white Purity to make nails pop against gleaming summer skin."
[Images: Zoya]