Shimmery, embellished nails reign supreme for fall: just use the new CND Modern Folklore shades. Their Shellac, VINYLUX, and Additives lines utilize rich, romantic color – and can be paired up for magical nail art combinations.
Shellac offers two weeks or more of wear and requires curing – the perfect choice for clients who prefer soak-off gels. VINYLUX is a Weekly Polish that bends with the nail to prevent chipping. Both come in six new shades available now: Locket Love, Fine Vermilion, Rose Brocade, Crimson Sash, Indigo Frock, and Plum Paisley.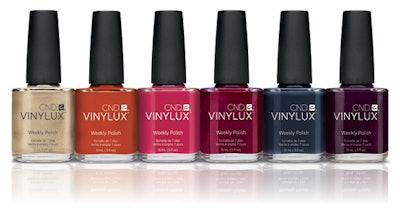 Take the perfect manicure or pedicure to a new level with CND's five Additives pigments in Ornate Halo, Rose Notion, Crushed Suede, Jade Rekindled, and Plush Velour.


[Images: CND]