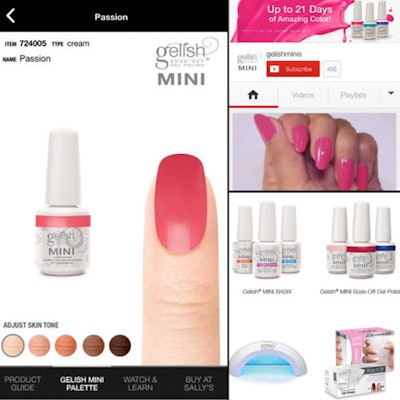 You love nails – and you likely use your smartphone everyday. Bring the fun of both things together with the new iOS apps from both Morgan Taylor and Gelish! The apps will let you try out colors from both lines virtually and give you pro-worthy tips for using the products.
The new Gelish MINI mobile app conveniently puts all of the information and educational resources any mani lover needs to keep nails looking perfectly polished all year 'round at ones fingertips. You can maintain a salon-quality manicure with Gelish MINI by utilizing the app's main features:
• Product Guide. This tab gives information on the full line of Gelish MINI products and their recommended uses. From base coat to top coat and everything in between, this page has details on all the tools at-home mani masters need to get started.
•  Gelish MINI Palette. Swatches of all gel colors, including seasonal collections, are displayed within this tab. It includes an interactive feature where users can preview each color on actual nails and lets you match your skin tone.
• Watch and Learn. Like having a nail tech by your side, the Watch and Learn tab links directly to tutorial videos on the Gelish MINI YouTube page.
• Buy at Sally's. Once you've mastered the techniques, begin (or expand) your Gelish MINI collection by visiting this tab. It provides links to purchase the full line of products at Sally Beauty Supply's online store, where Gelish MINI products are sold exclusively in the US only.
Get the Gelish MINI app here.
The Morgan Taylor app coming out later this summer includes the unique Match a Color feature, which allows users to snap a picture of anything that inspires them, select a particular color within the picture, and get Morgan Taylor shade recommendations that match the selected color which they can take right to the salon for their next mani/pedi appointment. Here are a few key features the new app also boasts:
The app features:
•  Virtual Salon – In this tab, users can "try on" the 100 plus shades of Morgan Taylor's core collection by selecting a highly customizable skin tone, nail shape and length.
• What's New – In addition to a core collection of 100 plus shades, Morgan Taylor introduces several seasonal collections every year consisting of fashion-forward, trendy shades that can also be "tried on" within the app.
• Videos – The videos tab shares behind-the-scenes looks at the Morgan Taylor's participation in Fashion Week, where the brand creates nail looks for some of the biggest names on the runway.
•  Social – This tab allows users to connect with Morgan Taylor across all of the brand's social platforms in order to stay up-to-date on the latest news and nail trends.
Look for the Morgan Taylor app later in the summer!
[Images: Gelish; Morgan Taylor]