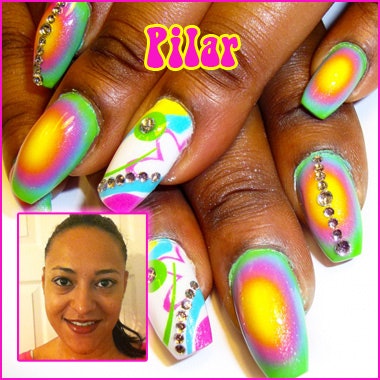 Welcome to NAILPRO's Nailed Down! where we "nail down" nail artists and technicians from our User Galleries and get to know them and their amazing work!
This week we visit Columbus, Ohio!
Meet Pilar:
Where do you work?
The Collection Salons and Spa.
How would you describe yourself?
I am a mother and a graphic design student, but soon I'll be moving to California to finish my design degree. I love art and making nails look pretty and fun.
How did you get started in the nail industry?
I started by doing my own nails and then I did my younger cousin, Fawn's, nails. She was such a good promoter that I soon had a large clientele.
What/Who inspires your work?
I am inspired by everything around me. When doing artwork on my clients' nails, I am often inspired by their mood or the colors they are wearing.
Are there any tools you can't live without?
Good brushes are important, acrylic, paint, and my airbrush. I care for my bristle brushes well by keeping them clean and using brush oil to keep them soft. And I keep my airbrush clean so that it functions properly and easily.
What is your favorite technique/style?
Airbrushing nail art and colored acrylics instead of gels.
What is your craziest/funniest nail story?
The funniest things would be what our clients tell us about their lives and the intimate details of their personal relationships. Especially when you are doing members of the same family or social group, or even clients dating the same man!
What tip can you offer other nail technicians?
Practice on yourself. Do your own nails, at least one hand, and always test new products on yourself first. It's a great way to promote yourself and develop your techniques.
Anything else you'd like to add?
I am happy to be a part of a community of nail artists who take pride in creating beautiful and fun nails.
You can find Pilar on the web:
In the NAILPRO User Gallery: Fun Nail Art and Airbrush Nail Art
Website: www.nailartnails.com
Website: www.luvmynails.co
Instagram: @luv_mynails
Twitter: @Luv_MyNails
YouTube: Airbrush Nail Art Nails
Click here for more Nailed Down! interviews »
Would you like to be featured in NAILED DOWN? Post images of your nail art to our User Gallery. We'll be highlighting outstanding artists based on those submissions! (minimum six pictures to qualify for consideration) NAILPRO reserves the right to edit submissions for length, grammar and clarity.